Putting in a dog-ear fence breaks up the boredom of a plain flat topped fence. With its tips cut at an angle, a dog-ear fence can add a charming aesthetic to an otherwise boring landscape. How you space your slats can also offer a more visually pleasing boundary. Of course, before installing a dog-ear fence, there are a few things to consider.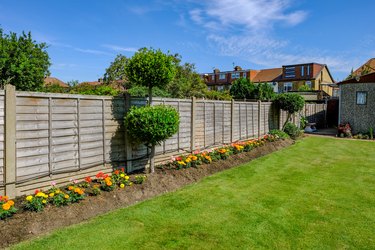 Dog-Ear Fence Defined
A dog-ear fence is desirable for many reasons. It's easy to install, cheap to build and decreases visibility from the outside world. Dog-ear fence is available in a few styles. The solid dog-ear fence forgoes the spaces between the pickets. Spaced dog-ear fences have a gap between the pickets so air can flow freely. This also allows neighbors to peak into your property, although they won't see much. The spacing of the pickets offers a limited view. Vinyl dog-ear fences are manufactured in sections. They cost a bit more but the maintenance is considerably less and they are easier to install. Composite dog-ear fences are the most durable and therefore come in at a higher cost. They usually come with a 20-year warranty and are relatively maintenance free.
Prep Work
Before you begin, you should check your local building codes. You may need a permit to build a fence on the area of land you are considering. If you have a homeowner's association, they often ask for clearance before you put up any permanent item on your property. Plan your layout down to the gates, if any, corners and property line. Make sure you have room to have full pickets at each corner and not be thrown off if you have a turn in your picket fence plan. A dog-ear fence is wider than an aluminum or composite fence so make sure you aren't encroaching over your property line.
Build Basics
Mark the layout of your fence with string and batter boards. At the fence corners, put the batter boards just past where they will be planted. The strings help you line up the posts so have the strings at about 6 inches above the ground. With paint or stakes, mark where each post will go. Then, dig your post holes. Place concrete in the hole before putting in the post. Install corner pickets and tap a nail into the top of each. Line up your pickets with this string to guarantee an even fence. Soon enough, you'll have new fence with plenty of character and functionality.
Cut Your Own Boards
To cut your own dog-ear boards, cut one picket to 4-feet in length. Use this first picket as a guide for the rest of your boards. Fasten a stop block and a miter saw to the work bench. Carefully lay out cuts at 45 degree angles. Start 1.25 inches from the edges of the board.