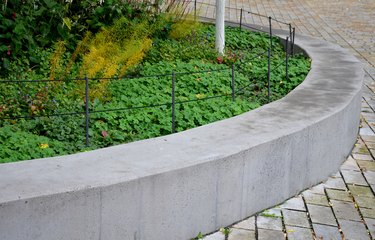 A well-built retaining wall reduces soil erosion and adds privacy among other benefits, but they don't have to be bland or ugly. There are a wide range of attractive alternatives to retaining walls that can significantly increase the overall aesthetic of the outdoor living space or backyard.
Rocks as an Alternative Wall
Professionally placed piles of big, rounded, dusty boulders mixed with varying sizes of rocks can offer a dramatic backdrop to a bland backyard or elevate a home's curb appeal. The natural stone can blend into the surroundings or create a contrast next to an expanse of lush, green lawn. Landscaping boulders come in an array of hues, shapes and sizes.
Mix giant boulders with smaller rocks in dry stacks for a natural style or create a wall of rocks of roughly the same size with mortar for a more formal look. When working with mortar, choose rocks that are square or rounded in differing sizes to get a level wall if capping the top of the wall. Round rocks and mortar can be amassed to form a meandering barrier with a rustic look.
Create a multilayered look with gabion walls, or wire cages. The varying sizes of sturdy cages are filled with river rocks or other fairly large rocks. This is ideal for retaining walls that may need to allow water runoff, such as from a sloped yard or a backyard that butts up against a large hill or mountain.
Walls of Sticks and Stones
Mixing large, cut branches with rocks or geotextiles. The permeable fabrics allow water to flow or seep through the wall if needed to avoid blockage or pressure behind the wall. Once the branches and other materials are established, vegetation will naturally grow into and around the wall. The added vegetation will further enforce and strengthen the natural alternative retaining wall.
Masonry can be cliché and cold. Wide beams of wood can offer warmth and support in a sloped area. Wood can easily be installed to wrap around unusually shaped areas and zig-zag through oddly arranged property lines.
A wood retaining wall is affordable, and there are a wide variety of woods from which to choose. Choose wood that is chemical-free and highly durable and that works well in your region.
Redecorating Concrete Block Walls
A good wall does more than stand up to harsh weather in a backyard or outdoor living space. The useful barrier holds back slopes of dirt from cascading into your home, offers a modicum of privacy at the least and can be a beneficial fixture. If you have a perfectly fine retaining wall that is simply unattractive, it can be done over a few ways. A retaining wall that can't be replaced either because of financial or structural reasons can be used to enhance the outdoor area.
Boring concrete block walls can become a part of the landscape with a design painted or etched into the concrete. An abstract design can turn a bland wall into a focal point. A brightly or elaborately painted concrete block wall can become a contrasting backdrop to a colorful blooming garden.
---
Kimberley McGee is an award-winning journalist with 20+ years of experience writing for a variety of clients, including The New York Times, Las Vegas Review-Journal Home section and other national publications. As a professional writer she has researched, interviewed sources and written about home improvement, interior design and related business trends. She earned a B.A. in Journalism from the University of Nevada, Las Vegas. Her full bio and clips can be viewed at www.vegaswriter.com.
View Work