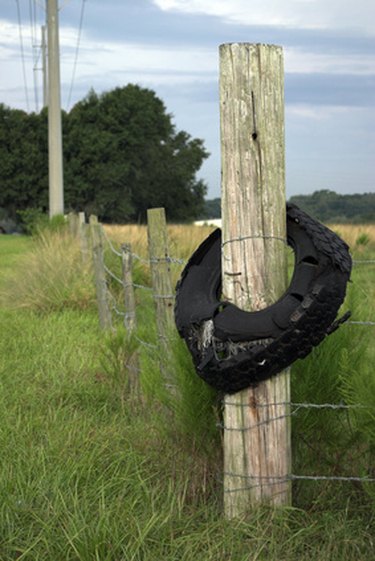 Wooden fence posts take abuse from rain, snow, hail and the sun. All of the effects from the elements can gradually deteriorate wood, causing rotting. According to Old and Sold, the leading factor in post decay is decomposing sap inside of the wood. When exposed to water, decomposition hastens the rot of the wood post. To protect your post from decomposing and rotting, it is important to treat both the post above ground and the wood post below ground. The post at ground level and below comes into the most contact with water and is the most susceptible to rot.
Step 1
Remove the wood fence post from the ground. If your fence posts are set in cement, dig under the cement to form a pocket beneath the bottom of the wood post.
Step 2
Dig a hole with a shovel about 10 inches beneath the area where the fence post will rest. Add about 10 inches of gravel to the hole. Gravel is a loose rock that supports the wood fence post but creates drainage, eliminating pooling of water beneath the wood posts. Pooling water saturates the buried and ground level portion of the wood post, hastening decomposition of the wood.
Step 3
Paint with a paintbrush the entire wood fence post with a waterproofing sealant intended for exterior wood, such as decks and fences. Paint the portion of the fence post that will be beneath the ground. You can use a garden sprayer to spray the wood sealant if preferred. Home improvement stores sell wood sealant as well as rent and sell garden sprayers for your outdoor projects. According to Ron Hazelton's Housecalls, when wood absorbs water, it expands. Once it dries, it contracts. This expansion and contraction causes the wood to crack. Cracks allow moisture inside of the wood, which leads to rot.
Step 4
Pour waterproofing wood sealant into a bucket and immerse the end of the wood fence post that will be buried below ground into the sealant. Allow the post to remain in the sealant overnight. According to We Build Fences, untreated wood posts buried below ground have shorter lifespans because of rot.
Step 5
Install, according to your method of choice, the waterproofed and sealed wood fence post on top of the gravel drainage layer placed in the fence hole.