Things You'll Need
Club soda

Terry cloths

White vinegar

Bleach-free powdered cleanser and polisher
Tip
Don't use cooking sprays on stainless steel pots and pans, as this leads to discoloration. Cook on low heat when using stainless steel cookware to prevent unsightly dark spots.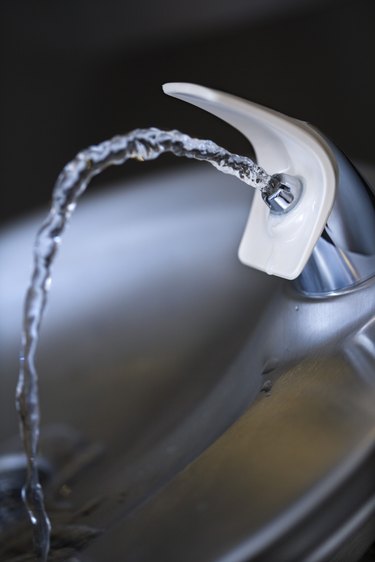 Stainless steel is a sturdy and reliable material commonly used in kitchen sinks, appliances and cookware. It is easy to care for and clean, but occasionally an unsightly discoloration develops. Many spots can be washed away with a mild detergent, but some are more stubborn. Scrubbing discolored areas with scouring pads or abrasive cleaner may cause irreparable scratches, but there are a number of safe methods to try if discoloration has marred the stainless steel in your home.
Step 1
Pour club soda onto a terry cloth and scrub the discolored area.
Step 2
Cleanse the discolored stainless steel with a terry cloth soaked in white vinegar. This is especially effective at removing heat stains.
Step 3
Pour a bleach-free powdered cleanser and polisher onto a cloth and scrub over stubborn discolored spots until they are removed. Be sure the cleaner you choose contains no bleach, because this may cause permanent damage to stainless steel finishes.
Step 4
Wash the cleaner away with warm water and dishwashing detergent.