Things You'll Need
Vacuum or broom

Water

Sponge

White vinegar

Bucket

Scrub brush

Baking soda

Container
Tip
You may need to clean grout with a wax stripper to completely remove the urine. Contact the help of a professional cleaner.
Warning
Do not apply vinegar on unsealed marble.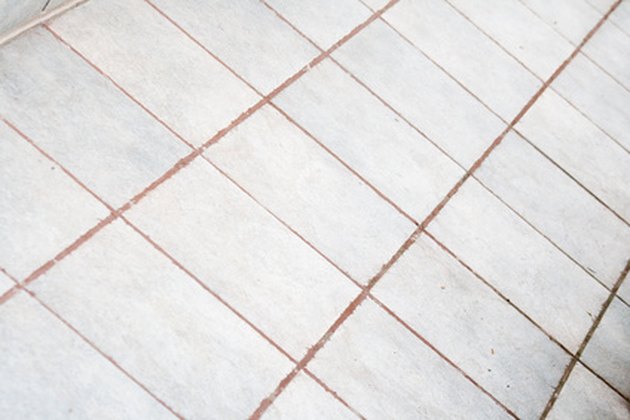 Urine stains can seep into grouted tile floors and leave behind an unpleasant stain and odor. Since grout is porous, the urine can discolor it. You can restore the grout to its original color by cleaning it thoroughly to remove the urine. Urine can grow bacteria that can make the grout unsanitary. Clean the urine immediately to prevent it from soaking into the grout to help minimize the time required to remove it.
Step 1
Vacuum or sweep the area to remove loose dirt and debris. This will ensure that you penetrate the grout well.
Step 2
Wipe the grout down with a water and sponge.
Step 3
Combine 1 part of white vinegar with 10 parts of water in a bucket. Apply the cleaning solution to the grout with a sponge. Allow the vinegar solution to sit on the grout for three to four minutes, then scrub the grout with scrub brush.
Step 4
Rinse the grout with clean water and a sponge.
Step 5
Mix an equal amount of baking soda with water to create a paste in a container, if the grout still appears stained or discolored. Scrub the paste into the grout with a scrub brush. Allow it to set for 10 minutes, then rinse it off with clean water and a sponge.
---

Angela LaFollette
Angela LaFollette was born in raised in West Virginia, but she currently resides with her husband and children in Minnesota. She is food freelance writer and blogger as well as a full-time stay at home mother. She holds a Bachelor of Arts degree from Marshall University. Angela's work has appeared on many online publications like Yahoo!, eHow, and Leaf Group.