The natural chemical properties of vinegar effectively banish dye stains from your wood floors and furniture. Vinegar has the stain removal power of bleach, but lacks the toxic and bleaching capabilities, which makes it perfect for removing stubborn stains. But if you have deeper stains, you can turn vinegar into an abrasive paste by reaching for powders on your kitchen shelf.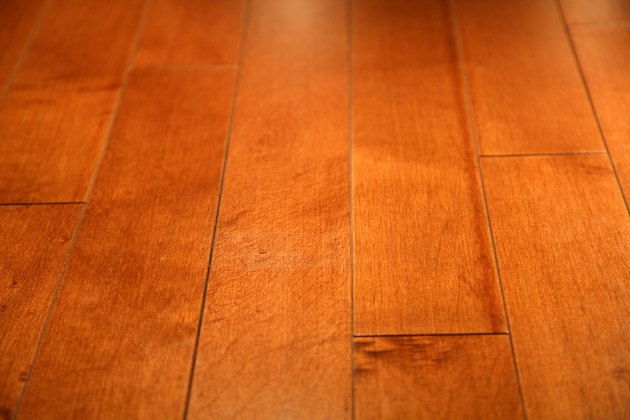 credit:
Jupiterimages/Photos.com/Getty Images
Step 1
Combine 1/4 cup of vinegar with 1 cup of warm water to create a mildly acidic cleaning solution.
Step 2
Pour a bit of the solution onto the the stain. Work it in with clean cotton cloth. Use the cloth to soak up excess liquid as well. Leave the solution on the stain for a few minutes.
Step 3
Flush away the vinegar solution with more warm water. Dry the wood with a separate clean cloth.
Abrasive Paste: Vinegar and Baking Soda
Step 1
Mix 1 tbsp. of baking soda with 1 tbsp. of white vinegar to create a thick paste.
Step 2
Spread the paste over the stained area and work it into the stain with a toothbrush or scrub sponge.
Step 3
Spray the area with warm water to loosen up the paste once it has been worked into the stain.
Step 4
Wipe away the paste with a clean cloth dampened with warm water.
Step 5
Repeat as necessary on deeper stains.