Things You'll Need
1 tbsp. baking soda

1 tsp. water

Small bowl

Mixing spoon

Clean damp rag

Crumpled sheets of aluminum foil

Paper towel
Tip
A low-grade steel wool pad can be used as a substitute for the aluminum foil.
Warning
Avoid using commercial rust removers. Store-bought rust removers are toxic and can be harmful to people and animals.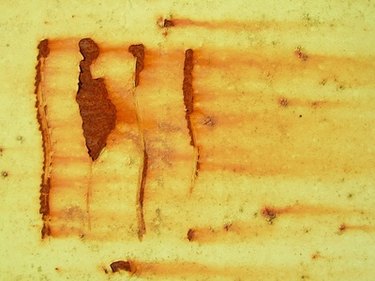 The next time you find ugly rust spots, head straight to your kitchen cabinets. Making your own natural rust removal solution is a safe, affordable alternative to expensive store-bought chemicals. It is imperative to remove rust as soon as possible to prevent the rust from spreading and causing additional damage to any surface that it comes into contact with. Try an easy remedy using baking soda and your surface will be rust free in no time.
Step 1
Combine 1 tbsp. of baking soda with 1 tsp. of water in a small bowl.
Step 2
Mix the combination, using a spoon, to form a thick paste.
Step 3
Apply the paste to the rust-stained area using a clean, damp rag.
Step 4
Crumple several pieces of aluminum foil into the shape of a small ball.
Step 5
Scrub the paste into the stain using the aluminum foil as a scouring pad.
Step 6
Wipe the paste away with a paper towel.
Step 7
Repeat steps 3 through 6 if needed.
---
Tammi Clements is a Los Angeles, California based fashion, and entertainment writer. She holds a Bachelor of Arts degree in broadcast communications from the University Of Nevada, Las Vegas. Her articles have appeared in Jane Magazine, Marie Claire Magazine, and Entertainment Weekly. She is currently writing her first novel, and travels the globe in her free time.