When splashes of diesel fuel or byproducts land on your clothes, it can linger long after it has had a spin through the laundry cycle. Whether you work in an industry that has you come in contact with diesel on a daily basis or if you simply get the odiferous substance transferred to your clothes after a stop at the gas station, removing diesel odors and stains can be a true pain.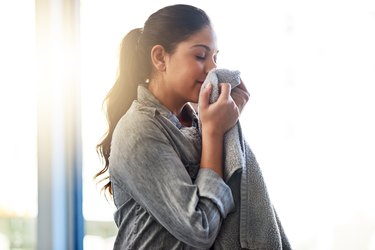 Why Diesel Smells
Diesel is less refined than gasoline, so it has more of an aroma due to its chemical makeup. The odor that you smell when you pump diesel fuel or are around someone who works with diesel is caused by the sulfur and nitrogen compounds.
Some people actually enjoy the scent of diesel and prefer it to the pungent smell of gasoline. Gasoline evaporates faster than diesel, which makes removing its odor or residual stain much less difficult.
Diesel Odor Removal
To remove the heavy scent of diesel from clothing or upholstery, you need to break down the sulfur and nitrogen compounds that are creating the offensive odor. There are a few ways to create an odor remover from household items, including:
Vinegar
Baking soda
Rubbing alcohol
Mouthwash
Always wear gloves and protective eyewear when applying cleaners or detergents in heavy concentrations. To get diesel out of clothes, you may have to try some of the following remedies a few times.
Baking Soda and Vinegar
A combination of baking soda and vinegar, which are natural deodorizers, can be used as an effective diesel odor remover. This is a longtime go-to for heavy odors associated with working in and around machines.
Sprinkle the baking soda onto the fabric and let it sit for a few minutes before spritzing the area with vinegar from a spray bottle, and rub it into the fibers.
The vinegar will evaporate quickly and neutralize the odor in the process. After 15 minutes, it's safe to vacuum up any leftover powder or residue. If the odor lingers, this process can be applied over and over again without damaging the fabric.
Rubbing Alcohol and Baking Soda
Rubbing alcohol evaporates quickly. This makes it ideal for areas that can soak up water and have a hard time drying out, leaving you open to a mold issue.
After sprinkling on a good layer of baking soda, douse the area with rubbing alcohol. You may need to try this a few times until you have the fragrant results for which you are hoping.
Mouthwash as Odor Remover
The inexpensive medicinal mouthwash found at the grocery store has long been known to remove the scent of smoke and soot from professional firefighters' clothing. It also works well in removing diesel odors from clothing as well as any lingering odors that may have attached to your washing machine and dryer.
Douse the area with a medicinal mouthwash such as Listerine and let it sit for at least 15 minutes.
Removing Diesel Stains
Sometimes, it's not just the diesel smell that is so hard to remove from the thick fibers of work pants and shirts. Diesel stains can set quickly and be truly difficult to entirely remove. Diesel is more oily than gasoline, so it tends to stick around and make bigger stains than its fuel counterpart.
Commercial cleaners are often used to pull the grease that the diesel left behind from the clothing. Fast Orange and Simple Green can seep deep into a diesel stain to remove it from the tough fibers of work clothes. These commercial cleaners are relatively inexpensive and do double duty as odor removers.
---
Kimberley McGee is an award-winning journalist with 20+ years of experience writing for a variety of clients, including The New York Times, Las Vegas Review-Journal Home section and other national publications. As a professional writer she has researched, interviewed sources and written about home improvement, interior design and related business trends. She earned a B.A. in Journalism from the University of Nevada, Las Vegas. Her full bio and clips can be viewed at www.vegaswriter.com.