Things You'll Need
Basin

Washing machine

Lemon juice

Laundry detergent

Dishwasher detergent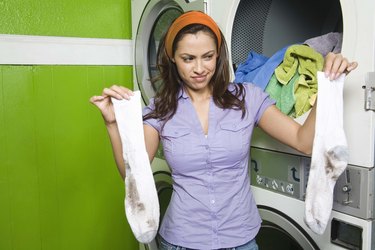 Socks are wardrobe items that commonly collect dirt stains, making the stain removal process especially difficult when the socks are white. Stains quickly dull the appearance of the socks, making a fairly new pair of socks look like they are years old. To remove the stains and keep socks looking bright and white, follow a simple cleaning procedure.
Step 1
Soak heavily soiled socks in a basin filled with 1 gallon warm water and 1 cup lemon juice. The lemon juice is a natural bleaching agent that will draw the dirt stains out of the socks without damaging the fabric. Let soak for 1 hour.
Step 2
Place the socks in the washing machine, using a warm water cycle. Pour a capful of your regular laundry detergent into the wash, along with 1 cup lemon juice and 2 tbsp. powdered dishwasher detergent. The combination of these ingredients will lift and remove the dirt stains while also restoring the white color.
Step 3
Allow the machine to complete the wash cycle, then dry if all stains are removed. Repeat the above procedure if any stain remains after washing.