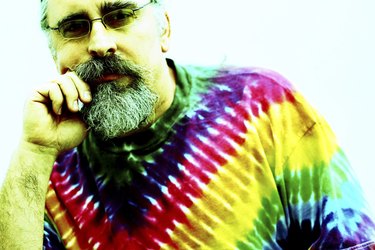 Tie-dye shirts are bright and colorful additions to any wardrobe. Since this pattern is meant to be bold, no one wants to have their tie-dyed shirt fade in the wash. Thankfully, there are ways to ensure your tie-died shirt will hold its color and not lighten with each wash. Make the effort to wash it properly the first time, so it will look newly dyed whenever you wear it.
Step 1
Wait at least 24 hours before washing your tie-dye t-shirt, after dying it. This allows the dyes to set in the fabric.
Step 2
Put the shirt in the washer alone, or only with other tie-dyed shirts with similar colors. Use the hot water setting.
Step 3
Place the shirt in a hot dryer for a full cycle. After the first time the shirt is washed and dried, the dyes will set and will not fade much after future washes.
---
Laura Jerpi has been working in marketing since 2007. She is an interactive copywriter who writes for Thought Leadership Publications, Ai InSite and South Source. Jerpi holds a Bachelor of Arts in communications from the University of Pittsburgh and a Master of Business Administration from Robert Morris University.