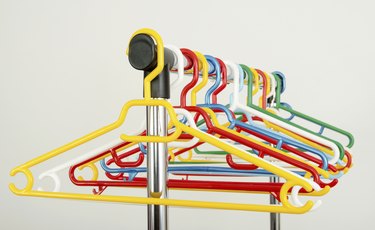 There are two types of plastic hangers: the tube kind that are completely plastic and are used mostly in home closets, and the type utilized at retail stores that are made of both plastic and metal. Consumers often find that they either break a hanger or simply don't want the hangers that come with their clothes from retail stores. With a little legwork, you can do your duty to recycle your unwanted clothing storage hangers. Recycling keeps waste out of landfills, decreases the need for natural resources to make new hangers and makes use of waste to create new products.
Time to Recycle Your Hangers!
Step 1
Inspect your old tube-type household hangers for a recycling number. Most tube plastic hangers are made of polystyrene, which is recycling symbol number six. This is one of the hardest types of plastic to recycle, mostly because Styrofoam is bulked into this category and is not widely recycled. In addition, most hangers do not have a recycling symbol at all. If you are lucky, you may be able to toss your old hangers into your normal recycling bin, depending on your local recycling program. Be forewarned: your hanger may still end up in the landfill if your recycling district cannot recycle it and you leave it for them.
Step 2
Inspect your unwanted retail plastic hangers. Most of the plastic portions of these hangars are also made of polystyrene. If you are able to recycle plastics with the recycling symbol six, you will need to remove the metal part of the hanger before adding it to your recycling bin. Try using a set of pliers to remove it; you will likely break off some of the plastic in the process.
Step 3
Make use of TerraCycle to recycle retail hangers. TerraCycle is a company that upcycles (making better materials from discarded items) and recycles many products—such as hangers, juice pouches, toothbrushes and more—thereby keeping them out of landfills. Find a collection station near you or sign up to be a host.
Step 4
Don't obtain excess unwanted plastic hangers. Remove the hanger as you buy your garment and hand it back to the sales clerk for the retail store to use again. Using wooden hangers at home is also more sustainable, as they last longer and can potentially be burned for firewood.
Step 5
Try to give hangers away via FreeCycle or even Craig's List. You may also find places to donate hangers such as thrift stores, nursing homes or churches with clothing drives.