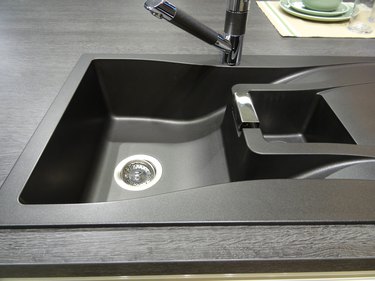 Cleaning a composite sink on a regular basis will keep it in good shape, as well as prevent the buildup of damaging dirt and limescale from hard water. However, just wiping it down on a daily basis doesn't always do the job, particularly for sinks that are used in kitchens with high traffic.
A composite sink is durable, pretty and requires a bit of care to keep it that way. Some detergents can take down the high shine of a gleaming composite sink. By using the right products and techniques, the composite sink will stay in good condition throughout its years of service.
Benefits of Composite Sinks
The beauty of a composite sink is that it looks luxurious and is highly durable. A composite sink is typically more expensive than stainless steel and ceramic. A common composite sink is a mix of 20 percent of acrylic resin and 80 percent of granite. This allows the sink to be made in a wide range of natural shades, from gorgeous gray to a muted charcoal or a striking black.
Franke sinks are strong in construction and are an investment for any remodel or restoration. The strong construction can stand up to heat and heavy pans, to a degree. However, if Franke sinks do get a small crack, scratched up, discolored or chipped, they can be repaired fairly easily without further damaging or compromising the integrity of the fixture.
How to Clean a Composite Sink
A common issue, particularly with composite sinks that are dark in hue, is a white haze. This seemingly impenetrable cloud is typically caused by hard water, according to Supreme Surface Cleaners.
A good composite sink cleaner that works well is a mix of one-part water and one-part vinegar. Scrub the sink well and rinse thoroughly. If the vinegar mixture is allowed to sit on the surface of the composite granite sink, then it can etch into and harm the finish of the sink.
The best way to clean off hard water deposits and limescale buildup is with a good scum and mineral deposit remover. Use a nonabrasive scrubbing pad with a mix of 1 teaspoon of mild dish detergent and 1 cup of warm water. Rinse and repeat as needed.
Protecting a Composite Sink
Wipe the sink out daily and keep water from beading and drying on the surface. This will cut down on hard water deposits that are creating that irritating and hard-to-clean white haze. Domestic Cleaners recommends that wet cloths, sponges or soaking pans aren't allowed to sit on the bottom of the sink to cut down on damage to the surface. These can leave discoloration or spots.
A granite sink sealer can ensure that the newly cleaned sink continues to shine for years. Simple polishes that are rubbed into the dry surface of the composite sink can offer a layer of protection.
There are a few cleaners that should never be used on a composite sink. These include wire brushes, nail polish remover, steel wool pads, oven cleaners, drain cleaners, bleach and diluted bleach.