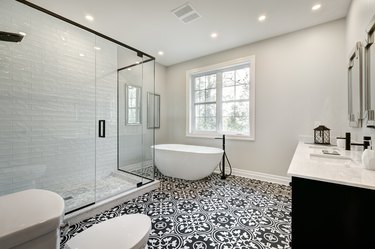 It's often overlooked by even the most diligent home cleaners. The ceiling of the shower can become riddled with mold. The mold that begins to cluster on a plaster ceiling above a shower could also be due to an undetected leak in the plumbing above the bathroom or an issue with broken roof tiles or shingles.
To rid a plaster shower ceiling of mold, first identify the cause and fix any underlying issues. Then clean off the mold and put measures in place to ensure it doesn't make a comeback in the humid shower area.
Causes and Dangers of Mold
A bathroom that is not well ventilated is a haven for mold of all types. According to Environix, mold that is caused by a humid environment tends to start at the perimeter of the bathroom. It may first show up on caulking and tiles. Splotches of mold will begin to show on a shower ceiling in the corners and along the outer lines and work their way across the ceiling at a faster rate as the colony grows.
Water doesn't have to touch the ceiling for mold to find it a habitable place to set up a colony. Roof leaks will start as a yellowish discoloration and often present with round patterns as it collects and spreads along the plaster.
Although it looks disgusting, mold that gathers and clumps in the shower tends not to be dangerous. Mold starts out as a mildew odor and appears in small spots. While most mold that grows in the bathroom isn't dangerous, it can pose a serious problem for those who are allergic, according to Today's Homeowner. Wear safety glasses and a mask when working on a moldy ceiling so that mold doesn't fall into your eyes, nose or mouth and cause an irritation.
Cleaning Mold Caused by Humidity
The ceiling of the shower often goes unnoticed, and, therefore, untouched by the proper cleaners. However, the slick surface is where the greatest amount of moisture gathers in a busy bathroom.
Never scratch at dry mold or use a brush to tackle mold on a plaster shower ceiling. Instead, use straight vinegar on mold to safely remove it. Spray the vinegar directly on the mold and use a soft cloth or nylon brush to gently scrub the mold from the plaster ceiling. Rinse well and dry completely.
To clean and remove stains left behind by mold, Home Depot suggests a mix of 1 cup of bleach to 1 gallon of warm water. Make sure the area is well ventilated whenever using bleach to clean. Apply the bleach to the plaster surface using small circular motions to rub it into the shower ceiling before rinsing and wiping dry. Point an upright fan at the ceiling to thoroughly dry the area after cleaning.
Mold Maintenance for Bathrooms
Once the ceiling is clean and dry, keep the mold at bay by ventilating the area after each shower. Turn the room's overhead fan on for a few minutes after bathing or showering. A small fan in the bathroom can help circulate the air if it is not easily ventilated.
Wipe the ceiling down at least once a week and after each use if possible. Clean the shower with a wash of vinegar and hit the corners and perimeter of the ceiling before working across the surface.
---
Kimberley McGee is an award-winning journalist with 20+ years of experience writing for a variety of clients, including The New York Times, Las Vegas Review-Journal Home section and other national publications. As a professional writer she has researched, interviewed sources and written about home improvement, interior design and related business trends. She earned a B.A. in Journalism from the University of Nevada, Las Vegas. Her full bio and clips can be viewed at www.vegaswriter.com.
View Work