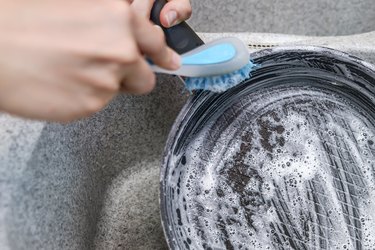 T-Fal makes nonstick and stainless steel cookware that is affordable, simple to cook with due to its proprietary T-Fal Thermo-Spot and easy to clean. When properly maintained and stored, your T-Fal cookware 12-piece set can retain its look and remain useable and safe for years to come. T-Fal also goes by the name Tefal in Europe, but not in North America due to its similarity to Teflon, which, while also nonstick cookware, is a different manufacturer altogether.
T-Fal Pan Safety
According to the T-Fal instructions, T-Fal nonstick cookware is made from anodized aluminum and is both durable and safe. Its proprietary "TechnoResist Anti-Warp" base prevents it from warping while keeping heat distributed evenly during use. The polytetrafluoroethylene coating, known as Expert, is similar to that of Teflon and is free of perfluorooctanoic acid (PFOA).
This T-Fal coating is also scratch-resistant and allows the use of metal utensils while cooking. Some pieces come with a T-Fal Thermo-Spot feature built into the base of its pots and pans. The T-Fal Thermo-Spot changes to a solid red color to inform the user that preheating to optimal temperature has taken place.
T-Fal makes stainless steel cookware that is also safe to use, durable and easy to clean. Stainless steel T-Fal pans have a patterned TechnoRelease interior that keeps food from sticking to the pan as it heats up. Silicone handles on T-Fal pans stay cool while in use on the stove. A T-Fal handle can also withstand temperatures of up to 400 F in the oven and still be safe to use. Rivets hold the handle securely in place, creating a comfortable, worry-free grip even when the pan is full.
Cleaning T-Fal Nonstick Cookware
T-Fal recommends handwashing its nonstick cookware. After cooking, wait for it to cool and use a soft cloth or sponge with warm, soapy water. If stubborn food debris still won't budge, you can use a cleaner other than dish soap labeled "safe for nonstick surfaces." Do not use abrasive steel wool pads, harsh cleansers like scouring powder or oven cleaners on any nonstick T-Fal pans.
Not all nonstick cookware is dishwasher safe, so make sure to look at your T-Fal cookware 12-piece set packaging beforehand to determine which pieces are. Position your T-Fal pot or pan vertically between the appliance's spikes to keep friction and scratches at a minimum and make sure to season your nonstick cookware with cooking oil every 10 washes.
Cleaning T-Fal Stainless Steel Cookware
T-Fal also recommends cleaning its stainless steel pots and pans by hand. Start by immersing dirty cookware in hot water. Mix powder cleanser with water to create a paste and apply it in a circular motion with a soft cloth, sponge or nylon scrubbing pad. Rinse in soapy, hot water and hand dry. Do not leave your stainless steel cookware to air dry.
If your T-Fal stainless steel cookware has copper in its band or bottom, you can use any copper cleaner to help restore its shine. Do not use chlorine bleach cleansers or oven cleaner on your stainless steel cookware, and do not use steel wool scouring pads or brushes on your cookware. Any abrasive cleansing agent can cause your cookware to become dull, scratched or discolored over time.
According to The Cookware Advisor, T-Fal's stainless steel cookware is dishwasher safe. However, washing your pots and pans in the dishwasher can also cause it to discolor to a blue or yellow hue over time due to the abrasiveness of most dishwashing detergents. There is no warranty coverage for discoloration on hard enamel, brushed aluminum or stainless steel exterior finishes due to use in the dishwasher. Natural discoloration, which occurs over time, is correctable by using a stainless steel cookware cleanser or the addition of lemon juice or vinegar to your detergent.
Cleaning Stainless Steel with Vinegar
Burnt food is sometimes hard to remove from stainless steel cookware. However, you can clean your T-Fal pan naturally using a mixture of vinegar and baking soda. Vinegar's acetic acid content aids in breaking down and loosening food particles as you clean.
To use this mix, fill your dirty pot or pan with just enough water to cover stuck food debris. Place the cookware over the stove and add a cup of vinegar. Turn on the burner and bring the mixture to a boil. After the water begins bubbling, remove the pan from its heat source and add 2 tablespoons of baking soda, then mix and empty the pan into the sink. Using a cloth, sponge or nonabrasive scrubber, remove the remaining food debris, which should now come off with ease, and dry.
Removing Burns from T-Fal Pan
Overheating a stainless steel pan can result in hard to remove burn marks left behind after cooking, but you can remove them with a few nonabrasive and natural items from your kitchen, according to Webstaurant Store. Baking soda not only works to remove stuck food debris when coupled with vinegar, it is also useful in erasing burn marks. Make sure your cookware is dry, then sprinkle baking soda over the offending mark on the bottom or underside of the pan. With a dry cloth, rub the baking soda into the mark.
If you prefer to make a paste with it instead, add a little water or gentle dish detergent to the mix. Once you can no longer see a burn mark, rinse your cookware and dry. If the burn mark is hard to remove, you can mix baking soda with gentle dish soap. Apply and set it down for several hours, leaving the mixture to soak into the mark before washing, rinsing and drying.
If your T-Fal pan has burn marks on its interior, you can also use table salt to remove them. Fill the pan with water to cover the burn mark. Set it on the stove and heat it, bringing the water to a boil. Once it starts bubbling, add some spoonfuls of salt before turning the water off. Let the pan sit with the mixture inside for a few hours before emptying and scrubs the mark off with a soft cloth or nonabrasive sponge before drying.
Soda can be a powerful but gentle cleaning agent, if your stainless steel pan has hard to remove burn marks from oil or any sticky substances like syrup, molasses or caramel. Open a can of any soda and pour enough in the pan to cover the burn mark. Place on the stove and bring the liquid to a simmer. Remove the pan from the burner while the soda is still simmering and, using a plastic or wood spatula, remove any remaining food debris.
---
Michelle Nati has written DIY and home improvement articles for The Farmers' Almanac, ApartmentShowcase.com, and Oddee.com. She holds a B.A. in Communications and English from Niagara University.
View Work