Plastic dishes and containers are popular choices in many homes. Plastic is lightweight and unbreakable, making it a practical choice for children's use, outdoor tableware and storage containers. Keeping those plastic containers clean does not mean hand-washing them in most cases, though, because reusable plastics are generally dishwasher-safe.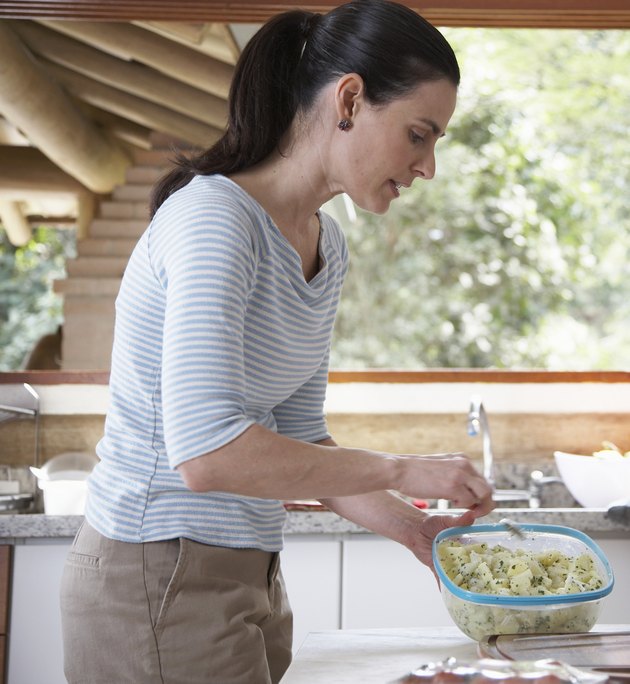 Most reusable plastic containers and bottles are dishwasher-safe, but they should be washed only on a dishwasher's top rack to avoid the intense heat the lower rack receives. Exceptions include disposable plastic bottles and containers, which should not be reused or placed in a dishwasher. As a rule of thumb, if a plastic container warps in a dishwasher, it is most likely not meant to be reused. Most plastic containers and plastic dishes are marked with a number that indicates whether or not they can be washed safely in a dishwasher. If in doubt, check with a plastic item's manufacturer.
Reusable Plastic Containers
High-density polyethylene (HDPE) is a No. 2 recyclable plastic that is dishwasher-safe and appropriate for food storage. Used in plastic bottles, milk jugs and detergent bottles, the product resists ultraviolet penetration. Low-density polyethylene (LDPE) is a safe, non-leaching plastic that transmits no known chemicals into food. It is commonly used for produce bags and food storage containers. This No. 4 recyclable plastic is dishwasher-safe and is safe for food storage. Polypropylene (PP), a No. 5 plastic, is a toxin-free product used in food and beverage containers that is top-rack dishwasher-safe.
Dishwasher-safe plastic is used in children's dishes, baby bottles, sippy cups and outdoor tableware. Some of these dishes are made of No. 5 PP plastic that is durable and break-resistant. Polycarbonate is used in non-breakable drink ware and dishes. Tableware made of melamine is also reusable and dishwasher-safe. Drink ware, dishes and serving pieces made of acrylic are a break-resistant choice with the appearance of glass. These pieces are available in clear, embossed and decorative finishes that are scratch-resistant. Although acrylic products are dishwasher-safe, a dishwasher affects their finish's clarity. Hand-washing is generally recommended for them.
Disposable Plastic Containers
The bottom of each disposable plastic container is labeled with a numeric code in a triangle. The codes alert consumers of the ability to recycle the container. Familiarity with the numeric system allows you to know which items are meant to be disposable, too. Items with a No. 1 in the triangle are made of polyethelene terephthalate (PET), a product designed for only one use. Disposable water bottles, cooking oil bottles and some peanut butter containers are made from this plastic. The containers are the most recycled plastic and should not be placed in a dishwasher. Polyvinyl chloride (PVC), No. 3 plastic, is used in plastic pipes and outdoor furniture. It also is used for salad dressing bottles, water bottles and liquid detergent. It is not recommended for food storage.