Stainless steel pots will last a long time when maintained properly and you can use them to store foods for short periods. It's not a good idea to store acidic or salty foods in stainless steel for long periods because the metal leaches into the food and the foods can cause pitting in the steel. Acidic and salty foods include soups, tomato sauces, foods made with citrus or citrus juices and most cooked fruits. Use the pots for short-term storage and you'll be fine.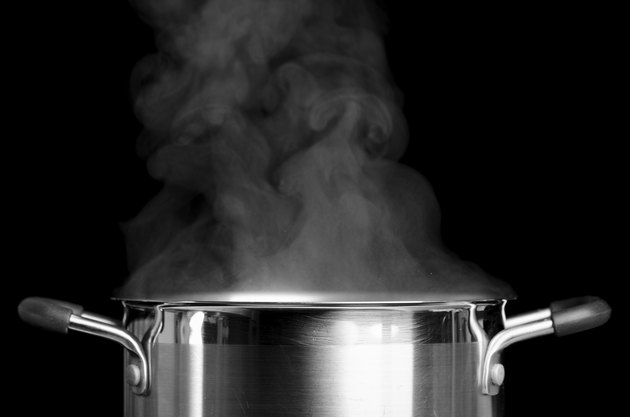 credit:
rob_lan/iStock/Getty Images
Step 1
Wipe the outside of the stainless steel pot with a damp dishcloth and dry it with a clean towel.
Step 2
Wrap plastic wrap over the pot opening so the opening of the pot is entirely covered by plastic wrap. You might need to go around the entire pot with the plastic wrap to create a good seal with the wrap. Because the lid of the stainless steel pot probably is not airtight, you need to create a tight seal with the plastic wrap to protect the food from the air.
Step 3
Place the lid of the pot on top of the plastic wrap.
Step 4
Place the stainless steel pot into the refrigerator. Use leftovers as soon as possible, and do not store the food in the pot any longer than necessary.