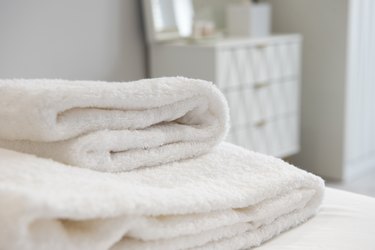 Making your own bath towels can be fun, especially if you want a custom size and color. It is simple to do, and for the person who loves to sew, this project can be fast and time-effective. Homemade bath towels make perfect gifts for holidays, weddings, baby showers, and house-warming parties. They are always needed and always used by those who receive them. You can also make your own hand towels and wash cloths using the exact same method, just cut at different sizes.
Things You'll Need
How to Sew Custom Bath Towels
Step 1: Choose Your Fabric
Buy a heavy terry cloth or Egyptian cotton with combed loops. The heavier the cotton, the more absorbent. You want to purchase the fabric by the yard, and this depends on how many towels you want to make. The average bath towel is 30 x 48 inches, but you can alter the size as desired. Both fabrics can be found at most fabric stores or you can purchase the fabric online at such websites as fabric.com and jandofabrics.com.
Step 2: Set Up Your Machine
Set up your sewing machine on a work table with plenty of extra space. Plug in the machine and thread with a cotton-wrapped polyester thread, according to machine directions.
Step 3: Cut the Fabric
Lay out the fabric on a clean solid surface. Smooth all wrinkles. Using your sewing measuring tape, measure along the outer edges first, the length that you desire your towels to be, plus an additional 1/2 inch both length- and width-wise. This allows you to fold and hem the edges with your sewing machine. Remember the average bath towel is approximately 30 x 48 inches, but you can custom cut to the size you want your towels to be.
Step 4: Fold and Pin the Edges
Using straight sewing pins and your measuring tape, fold all edges 1/2 inch. Pin the edges every 2 inches to keep the folds in place.
Step 5: Sew the Edges
Sew the edges up using a tight zigzag thread pattern. (Most sewing machines have a zigzag setting.) Stay closest to the inner edge, not the outer part of it. Go over the edges a second time. Trim any hanging threads.
Step 6: Wash the Towels
Place towels into the washing machine. Wash and dry two to three times to rid the fabric of fuzz and loose fabric.
Tip
You can wash and dry the fabric first before hemming the outer edges. Just cut an even edge afterward since the edges will fray in the washing machine.