Hanging towels decoratively is a great way to spruce up your bathroom and make your home feel refreshed. There are a number of ways to display towels that will go a long way toward improving the look of your towel rack. Fortunately, these methods are fairly simple to learn and don't cost a thing.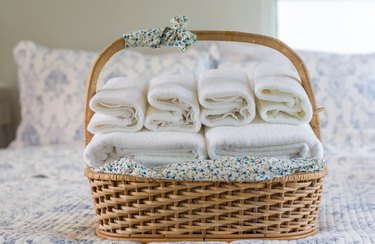 Hanging Towels
To hang towels with style, try layering contrasting colors of bath towels, hand towels and washcloths. You could also fold the towels triangularly rather than in a rectangular shape for additional pizzazz.
When you fold large bath towels for hanging, you can first fold them lengthwise, then fold both ends toward the middle. Overlap the ends slightly and place this middle part of the towel over your bar for hanging. This creates a very neat and clean look, without ends or tags on display at the bottom of the towel.
Rolling Towels
To roll towels in a spa-like manner, first fold a bath towel in half widthwise. Next, roll the towel tightly and evenly. Placing a number of rolled towels together in a basket achieves a very elegant effect. Alternatively, you can try to display the towels with the rolled ends facing out for visual interest.
Some fancy hotel folds, like swans or birds, also rely on rolled towels. First, tightly roll a bath towel diagonally, from end to end. Next, curl the towel into an s-shape. Use an accordion-folded washcloth to form the wings of the swan, and place it into the arch of the swan's back.
Spa-Style Towels
To really make your bathroom feel like a hotel or spa, try this approach. First, fold a bath towel in in thirds lengthwise. Hang it over your towel rod. Next, fold a hand towel so that the bottom is ⅔ of the way to the top. Flip the hand towel over and fold the left and right sides toward the middle so that they meet. Tuck one side into the other. When you flip the hand towel, you should see a pocket. You can then hang the hand towel over the towel rod, centered on your bath towel.
The pocket of your hand towel is the perfect place to display a decorative washcloth. Fold a washcloth accordion-style, then pinch it at the midpoint and fold it in half. Place the pinched point at the bottom of your hand towel's pocket. You should see a fanned washcloth in the pocket, creating a beautiful and elegant look.