Tip
Lifting the tabletop off the pedestal is easier to do with two people.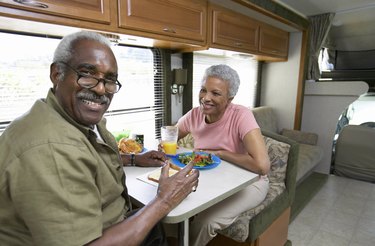 Campers and RVs maximize square footage by making the dining area double as a sleeping space. During the day, the pedestal table serves as a convenient spot for meals or card games. At night, the table converts to a bed suitable for children or adults. The dinette's cushions become the bed's mattress. The space converts to a table again for breakfast. Though each brand of camper may be slightly different, the conversion process for most is the same.
Step 1
Release any lever that keeps the table from turning. Not every pedestal table has such a lever. If it does, it will be located near the pedestal at the center of the table. Pull out on the lever to release it.
Step 2
Lift the tabletop off the pedestal. Set the tabletop to one side.
Step 3
Remove the pedestal from the collar in the floor. Grasp the pedestal and lift straight up. Set it aside.
Step 4
Set the tabletop into place between the dinette seats. The tabletop will rest on a narrow lip made onto the seats for this purpose.
Step 5
Arrange the cushions from the back of the dinette seats on the tabletop. Cover the cushions with sheets or a sleeping bag.
---
Cynthia Myers is the author of numerous novels and her nonfiction work has appeared in publications ranging from "Historic Traveler" to "Texas Highways" to "Medical Practice Management." She has a degree in economics from Sam Houston State University.