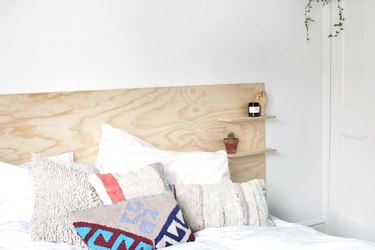 Unfinished wood is often used as flooring or furniture because it lends a lovely rustic look and instantly makes your space look cozy and worn-in (in a good way). To keep your unfinished wood looking great, however, you must clean it properly. Cleaning unfinished wood is a little more involved than simply mopping it or wiping it down the same way you clean your other household surfaces. Porous and sensitive, unfinished wood can get damaged from standard cleaning methods. But keeping it clean is crucial for preventing stains and surface damage. Here's the right way to go about it.
Things You'll Need
How to Clean Unfinished Wood
Avoid using water or liquid household cleaners on unfinished wood. Because unfinished wood is porous and doesn't have a sealant over the surface, liquid can soak into the wood and cause it to warp and stain. Instead, clean the surface with a dry cloth and a vacuum. If you have some set-in stains or odor, use vinegar to deep clean the surface.
Step 1: Dust the Unfinished Wood
Take a clean, dry microfiber cloth and wipe down the unfinished wood surface to remove all loose dust, dirt, and debris. Do this regularly to maintain your unfinished wood. If you're cleaning wood floors, use a standard broom. For wood furniture, use a short-handled soft brush.
Step 2: Vacuum the Unfinished Wood
Thoroughly vacuum the unfinished wood with a powerful vacuum to further remove any stuck-on dirt and debris. Make sure to go over every part of the unfinished wood, but be gentle.
Step 3: Apply Vinegar Solution
If dusting and vacuuming the surface doesn't clean it as well as you'd prefer, it's time to deep clean the unfinished wood. Skip a trip to the store to pick up cleaner and take a look in your pantry instead. If you have a bottle of white vinegar, you're all set.
Dilute the vinegar by mixing 1/2 cup vinegar with 1 gallon of water. Then, dip a clean cloth into the solution. Wring it out to get rid of excess moisture before applying a small amount onto a somewhat inconspicuous section of the unfinished wood to test it. If it causes discoloration or other damage to the unfinished wood, do not use it. In this case, you can try using a dry cleaning sponge to remove stubborn stains.
If the vinegar solution does clean your unfinished wood, continue gently applying it to the entire surface. A thin layer should do the trick — you want to expose the unfinished wood to as little moisture as possible.
Step 4: Dry the Wood and Apply Finish
Once you've applied a vinegar solution to the unfinished wood, promptly dry it with a clean, dry cloth. If the solution soaks in too much, it could damage the wood. If you want to keep your wood surface looking shiny and new, you can apply a coat of wood finish.