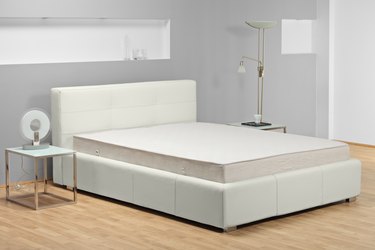 A wet mattress can grow mold, mildew, and other harmful pathogens. Depending on what soaked your mattress, it may or may not be safe to dry and keep using it. It is, therefore, essential to know if you should dry your wet mattress, and if so, how to dry a wet mattress quickly.
When to Dry a Wet Mattress
If your mattress was rained on or saturated by urine, a burst water pipe, an overflowing tub or sink, or drinks and food, then it is probably safe to dry. If the wet mattress is covered in sewage overflow or groundwater flooding, then it must be tossed. You should also discard any wet mattress that is completely soaked or has remained saturated for longer than 48 hours since that gives bacteria and mold enough time to get a foothold. Any wet mattress that isn't easy to dry or shows signs of existing mold growth should also be tossed.
How to Dry a Wet Mattress
Things You'll Need
Clean towels

Baking soda

Dish soap

Brush

Hairdryer

Fan

Clean, white sheet
Step 1: Strip the Mattress Bare
The first step in drying a wet mattress is to strip it to remove any debris, bed sheets, and pillows. Once the mattress is cleared, apply a fresh towel to the surface to soak up moisture. Keep replacing towels as they become soaked. If there is still wetness remaining, sprinkle kitty litter or baking soda on the surface of the mattress. Litter and baking soda will help absorb remaining liquid and can be vacuumed afterward.
Step 2: Soak Up Lingering Liquid
After removing moisture from the surface of the mattress, use a wet-dry shop vacuum to whisk up additional moisture from inside the mattress. Apply the nozzle of the vacuum to the wet mattress and move it around until you've cleared the entire surface. Don't forget the sides and bottom of the mattress. Using a vacuum will also help remove any remaining kitty litter, baking soda, and debris from the surface of the mattress.
Step 3: Sanitize and Remove Stains
Next, apply a cleaning solution of 1 part dish soap and 2 parts hydrogen peroxide to the surface of the still-damp mattress. You want to apply the solution when the mattress is damp so that stains don't set in further. Brush the solution into your mattress and let it sit for five minutes before wiping it clean with a fresh cleaning cloth. Avoid using any cleaning tools that could spread bacteria at this stage, like a used dish sponge.
Step 4: Dry Your Wet Mattress
After you have applied the cleaning solution, place the damp mattress upright in a position that's at least 2 feet away from any other object — the more surface area that's exposed to air, the better. If you're in a tight or confined space, prop the mattress against a wall so air can flow underneath.
Afterward, apply direct heat from a hairdryer to the wet spots on the mattress. Move the hairdryer back and forth over the damp spots, keeping it a few inches from the surface. Stop the hairdryer after 10 to 20 minutes and let the mattress cool for at least five more minutes before checking it. Stop using the hairdryer when the mattress is dry to the touch.
Finally, leave a fan positioned toward the mattress for an additional six to eight hours. You can also run a dehumidifier in the room to remove excess moisture from the air. If possible, move your mattress outside propped up on a clean sheet, as fresh air and sunlight will help prevent bacterial growth and keep your mattress smelling fresh and clean.
Step 5: Disinfect the Surface
When the mattress is completely dry, lightly and evenly mist the entire surface with a solution of 1 part rubbing alcohol and 1 part water to disinfect it.