Things You'll Need
Soap

Water

3 Cloths

Aluminum brightener compound

Metal polish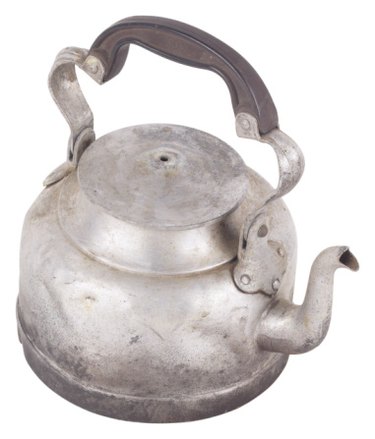 You can recognize corrosion on aluminum by pitting of the metal, roughness on its surface and usually a white appearance. Corrosion on aluminum is typically easy to detect because of these qualities. It is also easy to spot because it increases in volume on the surface of aluminum. Use caution when cleaning corroded aluminum in order to avoid staining the surface.
Step 1
Use a cloth with a mild cleaning agent, such as soap and water, to remove any dirt and oil from the surface of the corroded aluminum.
Step 2
Place an aluminum brightener compound onto another cloth and rub it into the corroded aluminum. Doing so will make it easier to remove tough corrosion using metal polish. You can skip this step if there is only light corrosion.
Step 3
Place metal polish on another cloth. If you're cleaning an anodized aluminum, check to see if the polish is suitable for this type of aluminum. Some cleaners are capable of removing the protective layer of anodized aluminum.
Step 4
Rub the cloth with the metal polish in a circular motion over the aluminum. Apply pressure while polishing. The more corroded the aluminum, the more work it will take to remove the corrosion. The metal polish should remove the remaining corrosion and create a polished surface.
---
Wesley DeBoy has been a writer since 2004. He has a variety of arts and entertainment articles published on various websites. DeBoy specializes in writing about professional audio, music and computer technology. He holds a Bachelor of Arts in telecommunications production from Ball State University.