Many homeowners choose stainless steel appliances for their kitchens because of the beauty and style of the metal and then are dismayed to find how easily the surface is marred with grease, spills, water and fingerprints. Spills allowed to sit on stainless steel for too long can damage the surface, creating a permanent mark. Improper use of other kitchen items can cause scratches on the stainless steel. Removing stains from stainless steel is usually a simple process, and you can often use items you already have in your home. Removing scratches from stainless steel is not possible without refinishing the surface.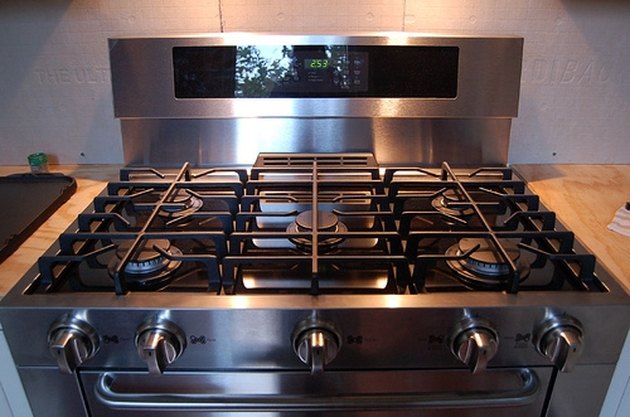 Step 1
Pour one tbsp. of dishwashing liquid into a quart-size spray bottle, and fill the remainder of the bottle with hot water.
Step 2
Shake the bottle to mix the contents, and saturate the stained area with the cleaner. Allow the cleaner to sit for a couple of minutes.
Step 3
Wipe the stain with a soft, damp cloth until the stain is removed.
Step 4
Rinse the area with clean water, and dry with a soft, clean cloth.
Step 5
Refinish the stainless steel cooktop with a non-metallic, abrasive pad. Rub the pad the same direction as the existing polish lines from one end of the cooktop to the other.
Step 6
Spray the cooktop with your regular cleaner.
Step 7
Wipe dry with a soft cloth.