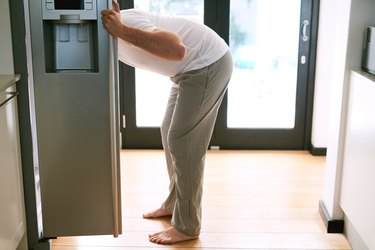 Plastic appliances are often affordable, lightweight and convenient for outdoor, garage and recreational spaces. When they are left to the elements too long or haven't received a good cleaning in quite some time, then they can get a sickly, jaundiced appearance that can be off-putting. The once gleaming white plastic can turn an unappetizing yellow that can make the appliance seem old and ultimately unsanitary. Completely erasing the discoloration from yellow plastic is not always possible, but it can be brightened up and disinfected.
Can Yellow Plastic Turn White?
Don't despair over a yellowed plastic interior or exterior parts of a household appliance. Whether it's the white plastic door handles that have suffered some discoloration or the entire inside of the fridge, yellow plastic can be handled and spruced up. Basic cleaners, from lemon juice to vinegar as well as more invasive commercial cleaners can whittle down the yellowed coloring of the inside of a refrigerator, cooler or other plastic-lined item.
Why Plastic Turns Yellow
Exposure to dirt, grease and oils can make an impression on plastic and not always a favorable one. The video game players at How To Geek say that bromine, a flame retardant, in older ABS plastics can yellow when exposed to UV light. The outside of coolers, older freezers and refrigerators and other hard plastic items can get that jaundiced look from some time spent outdoors or within view of a window that spills sunlight.
Natural Ways to Clean Plastic
Yellow plastic can be brightened up with natural ingredients. These include:
Lemon
Baking soda
Vinegar
Distilled water
Hydrogen peroxide
Gather some towels, nylon sponges, a good bucket, distilled water, mild dish soap and microfiber cloths. Wash the yellowed plastic down with warm water and a few drops of a mild dish soap to remove any residue left behind from these natural cleaning products.
Hydrogen Peroxide and Yellow Plastic
Hydrogen peroxide is an anti-fungal and disinfectant. It will remove any odors and bacteria that may be lingering on the surface, according to House Logic, as well as brighten old plastic. Small items can sit in a hydrogen peroxide bath until the plastic piece has lightened and the discoloration has lifted.
If the inside of the fridge has turned yellow, then a wash of hydrogen peroxide can brighten up the discolored plastic. Use a 3 percent solution and spray it onto the interior of the appliance. Be generous with the hydrogen peroxide spray and let it sit on the plastic overnight. Continue to spray the interior of the fridge every hour or so. You want the hydrogen to sit on the plastic as long as possible. Wipe clean and repeat if necessary.
Cleaning with Lemons and Vinegar
Plastic food storage that is discolored can be placed in a bath of lemon juice to remove odors and stains. The citric acid works to clean, disinfect and deodorize and won't hurt plastic, according to Networx. Rub the pith of the lemon over plastic that is truly orange or yellow from food stains to help lift them from the porous surface.
Spray vinegar onto yellow plastic bins and sprinkle baking soda over the vinegar. Spray the area again until the bubbling ceases. Allow this mixture to sit on the yellowed plastic for an hour or overnight before wiping clean.