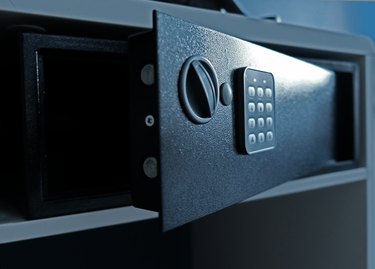 Sean Connery and Charlize Theron cracked safes in the movies, and it was sexy. Real-life safecrackers toting power tools and hair-raising invoices? Not sexy. However, when you're locked out and can't remember the digits or actually need to change the combination on a First Alert home safe, sexy safecracking doesn't matter anyway, and expensive service isn't required. You simply want access, and it's available through First Alert's support team or a locksmith.
BRK Brands, Inc., which began in the 1960s by making residential smoke detectors, launched its line of First Alert safes in 1996. Of the 16 models of floor and wall safes offered under the First Alert name, four models are combination-accessed units, and 12 use digital access through a keypad on the front of the unit. All First Alert safes come with emergency override keys that should be kept away from the safes.
Changing a safe's combination is not a measure you undertake yourself by following printed instructions included with the product. It simply involves calling a locksmith. On the other hand, when you're locked out and wish to recover a combination you've misplaced or forgotten, you'll follow a process completed through communication with the First Alert support team. Keep in mind that First Alert can't guarantee availability of replacement keys and combinations for safes that are out of warranty.
Recover Combinations or Replace Keys
When you need to recover a combination or replace an override key for your safe, you'll begin the process by taking steps to prove ownership of the unit. There is no charge for combination recovery, but replacement keys for safes are $10.95.
Email First Alert support at safes@firstalert.com to verify availability of a combination or replacement key for your model.


After receiving confirmation of availability, download and complete the form on the First Alert website titled "Notarized Statement of Ownership for Safe Combinations or Keys."


Have the form notarized.


Prove ownership of the safe by emailing the form to the First Alert support team at notaryletter@firstalert.com or by faxing it to 800-603-2878.


Wait 48 hours before calling to confirm First Alert's receipt of your letter. Once confirmation is established, the First Alert representative will provide the combination.


Upon receiving confirmation that First Alert has received your letter, send the $10.95 key replacement fee (if your request is for a key). The company accepts credit cards, checks and money orders. To pay by phone, call 800-323-9005.

Create a New Digital Passcode
If you own a First Alert safe that's accessible by entering a digital passcode, keep in mind that as an added security feature, the safe will lock you out for 15 minutes after three attempts with an invalid passcode. If you forget your code, you can open the safe with your emergency override key. Upon acquiring your safe, you'll first access it with the factory passcode, but you should immediately follow the steps for creating your own code. You can change the passcode as often as you wish.
Open the protective keypad cover.


Press the small reset button found on the inside top edge of the door. Red and green flashing lights on the keypad indicate program authorization. You have 10 seconds to begin.


Enter your chosen three- to eight-digit passcode followed by the # key.


Immediately reenter the passcode, again followed by the # key. A solid green light will show for five seconds if you have successfully entered your passcode. This deactivates the factory passcode.


Make a note of your passcode and keep it secured away from the safe.
There can be many reasons for changing the combination or passcode on your First Alert safe, many of them common among safe owners:
The combination or code may simply be difficult to remember.


You suspect that someone who shouldn't have it has discovered the combination or code.


You've begun safe-storing of firearms and wish to limit access to them.


You inherited the safe, and the deceased failed to leave record of the combination or code.

Always make sure you've stored a record of your new combination or passcode along with the override keys in a secure, undisclosed spot away from the general location of your safe.