Tip
Save money by changing your address at the post office where you purchase the P.O. Box. When you change your address online, the United States Post Office charges your credit card $1 to verify your identity.
If you changed your address for privacy reasons, call your local phone book company and ask to be unlisted. Try to locate and delete any mention of your name and address on the Internet as well.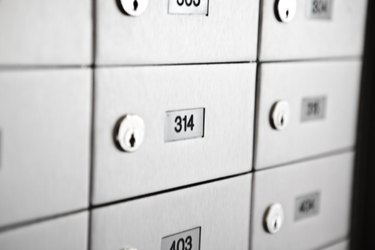 Using a post office box may not be as convenient as picking up the mail right outside your front door or at the end of your driveway; however, the P.O. Box allows you the privacy and security that home delivery does not. Perhaps you receive a lot of packages and would prefer that they not be left where dishonest neighbors can get to them, or perhaps you run a home-based business and would prefer not to disclose your home address to strangers. Whatever your reason, a P.O. Box is safe and easy to use.
Step 1
Rent a P.O. Box at the post office of your choice in person or online. You may decide that the one on the same route as your daily commute is more convenient than the one closer to home. Decide how long you want to rent the P.O. Box -- usually six months or a year -- and pay the fees.
Step 2
Go to any post office and ask for a change of address form. You also may complete this step online. Open the United States Postal Service website and click the "All Products & Services" link. Then click the "Change Your Address" link.
Step 3
Read the instructions and complete the form in its entirety, specifying if the change is temporary or permanent; when you would like the post office to begin forwarding your mail; if it is an individual, family or business move; and your new address. Submit the form.
Step 4
Write down your confirmation code if you changed your address online. Use it later to check the status of your request or if you need to go back and make any changes. If you submitted a hard-copy form in person, be sure to keep your copy in a safe place so you can use it later for the same purposes.
Step 5
Update all of your financial and online accounts with your new address. Begin using the new address. You can manage your P.O. Box online, including renewing it when your current agreement ends.
---
Based in Southern California, Kristy Borowik has been writing professionally since 2004. She serves as a technical writer and editor, earning several awards from the Society for Technical Communication, with articles also appearing in "Trilogy Life" magazine. Borowik holds a Bachelor of Arts in English and print journalism from Southern Adventist University.