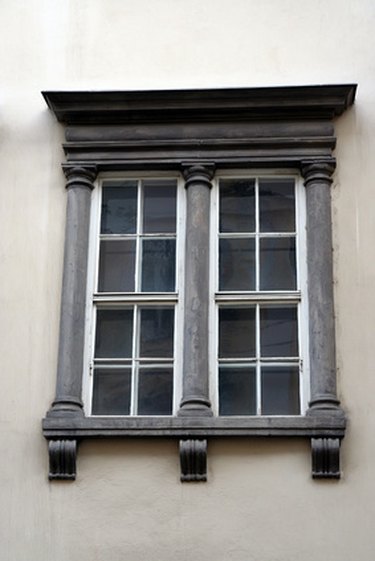 Pella replacement windows are one of the best known replacement windows on the market today. Pella has been manufacturing windows for over two decades and provides a large range of finishes and styles. Thermopanes are Pella's own version of a dual-pane, insulated window. The most common residential window style in American architecture is the double-hung window. Pella's tilt-in sashes make this task very simple.
Step 1
Unlock and raise the bottom sash of the window to a height of 3 inches. Locate the tilt release lashes on top of the top horizontal frame member. Position your index fingers one on each of the releases located in the corners of the top horizontal frame.
Step 2
Release the latches to tilt the sash in by pressing on both latches toward the center of the window firmly until the latches clear the side jambs. Tilt the window in until the latches clear the side jambs, then release the latches.
Step 3
Continue tilting the sash in until it rests horizontally at a 90-degree angle to the window. Shift your hands to grip the sides of the sash and lift up on one back corner firmly to release the sash hinge pin. Tilt the side up until the pin clears the jamb. Press upward on the opposite hinge pin to release it from the jamb. Pull the sash from the jamb.
Step 4
Pull the top sash down toward you until its bottom is 3 inches above the sill. Locate and depress the two release latches on its top frame member as before. Tilt the window to 90 degrees and lift up on one bottom corner to release the hinge pin. Lift up on the opposite side and lift the sash from the window.
Step 5
Reinstall the sashes by following the steps in the reverse order. Insert the top sash, bottom end first, snap one hinge pin into place and press down on the opposite side. Tilt the window up, then press the latches toward the center until the window is upright. Release the latches to snap the window into place.