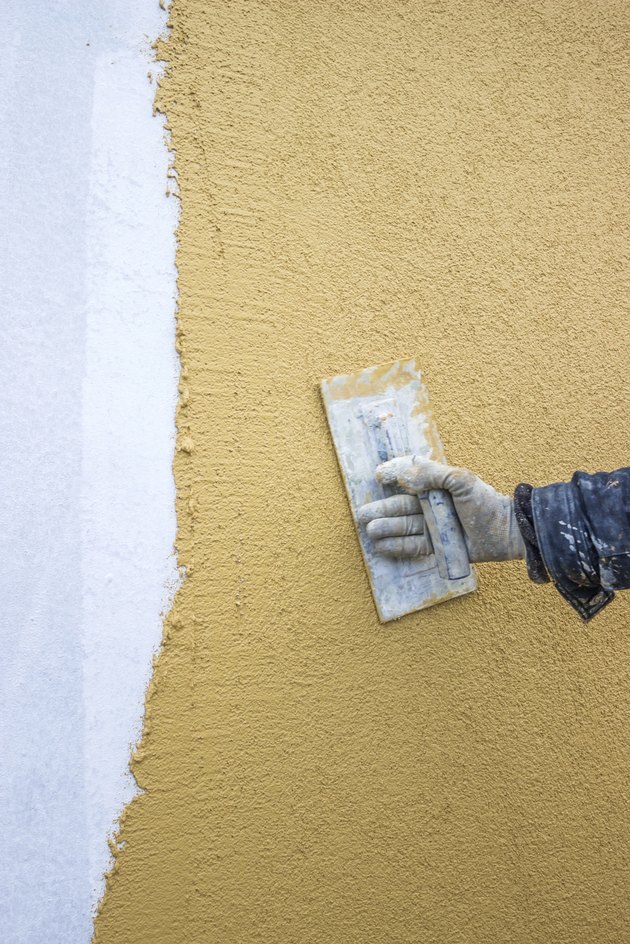 Blue board and green board are both designed for use in applications where regular drywall wouldn't be sufficient. Blue board is for walls that will be finished with veneer plaster. The other specialized wallboard product -- green board -- is intended for use in areas that will be regularly exposed to moisture.
Gypsum and Paper
Both blue board and green board are similar in construction to regular drywall. All three are made from gypsum plaster pressed between sheets of thick paper; the paper gives the board protection from crumbling. What's different about green and blue boards is the special coatings on the paper.
Blue Board for Plaster
According to BobVila.com, the paper surface of blue board is specially treated to bond with veneer plaster. Veneer plaster is a thin but very hard wall coating that resists dents and scratches and hides seams, or joints, between wallboard panels. Veneer plaster can't be applied over regular drywall unless the drywall joints have been sealed and the wall has been painted with a special primer, so installing blue board instead saves considerable time and effort.
Green Board for Moisture
Green board's paper has a moisture-resistant coating and may or may not have moisture-resistive additives in the gypsum core. Green board is suitable for walls that may be exposed to occasional moisture and condensation, such as standard bathroom walls (not shower walls) and kitchen backsplashes. It is often used as a backer for tile in these applications. However it should not be used in showers, bath enclosures and other areas that are frequently wet, and it is not suitable backing for floor tile. Tiled walls in wet areas require a backing surface of cementboard or other panels designed for wet applications, such as gypsum panels with fiberglass facings.
---
Cam Merritt is a writer and editor specializing in business, personal finance and home design. He has contributed to USA Today, The Des Moines Register and Better Homes and Gardens"publications. Merritt has a journalism degree from Drake University and is pursuing an MBA from the University of Iowa.