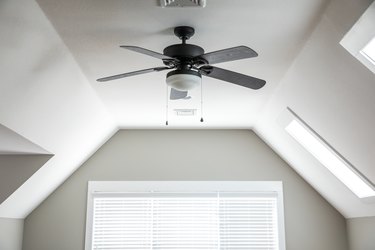 Are you wondering how to cool a room facing the sun? Keeping cool with the sun streaming into your room can be a challenge, and it can make your heating and cooling bills soar. Changes to how you use the room and how you cover the windows can make a big impact on how cool it feels in the summer.
Improve Window Efficiency
Existing windows that are old, drafty, single-pane windows make cooling a house more difficult. Replacing old windows with energy-efficient models can drastically reduce heat and cold transfer through the glass, making your room more comfortable and saving on utility bills.
New windows are pricey, though, so finding cheaper ways to insulate windows can keep your room cooler. Caulking the gaps around the windows with window and door caulk reduces heat transfer during hot weather. Using weatherstripping can also block drafts around your windows.
Applying heat-control window film is another way to reduce the heat in your room. Choose film that blocks UV rays, reduces glare and blocks solar energy. The window film not only makes your room feel cooler but it also protects your interior items from fading.
Use the Right Window Coverings
One of the easiest house cooling tips, especially in rooms with direct sunlight, is to keep your window coverings closed during the hot parts of the day when the sun is shining. This prevents solar heat gain through the windows. Choose thermal window coverings designed to block UV rays for the most effective cooling. Install them so they fully cover your window. You can open the curtains again to let in brightness when the sun isn't shining directly on the windows.
Awnings mounted on the outside of your house over doors and windows help block the sun. They also add a decorative finish outdoors to boost your curb appeal. For rooms off an outdoor patio, installing a large patio awning not only cools your room but it also gives you a shaded spot in which to sit outdoors.
For a more natural option, grow shade outside the window. Strategically placed trees help shade your windows and keep the room cooler. This method is a long-term solution since it often takes trees several years to grow tall enough to provide shade. Some fast-growing shade trees include silver maple (​Acer saccharinum​), northern red oak (​Quercus rubra​) and weeping willow (​Salix babylonica​).
Ventilation and air circulation make your room feel cooler. Ceiling fans and box fans are inexpensive options that you likely already have at home. Run those fans when you're in the hot room. Opening the window can let a breeze into the space if it's cooler outdoors than indoors as long as you don't have your air conditioner running.
Improving attic ventilation with ridge vents and roof vents can also help. Adequate ventilation keeps your attic cooler, which can help your entire home feel cooler.
You've likely heard people blame the humidity and not the heat when things start feeling uncomfortable outdoors. High humidity levels make an already hot room feel even warmer. Lowering the humidity in the room by running a dehumidifier can help you feel cooler. Aim for humidity levels between 30 and 50 percent to stay comfortable and avoid moisture damage. Running exhaust fans in your bathroom and kitchen can also help keep humidity levels lower.
Postpone Heat-Generating Activities
During the hottest part of the day, limit activities inside your home that create heat, such as cooking and doing laundry. Cooking outside on a grill can keep the entire home feeling cooler. Incandescent light bulbs can also be a source of heat, so replace them with cooler-burning bulbs or leave the lights off in the sunny room until later in the day.