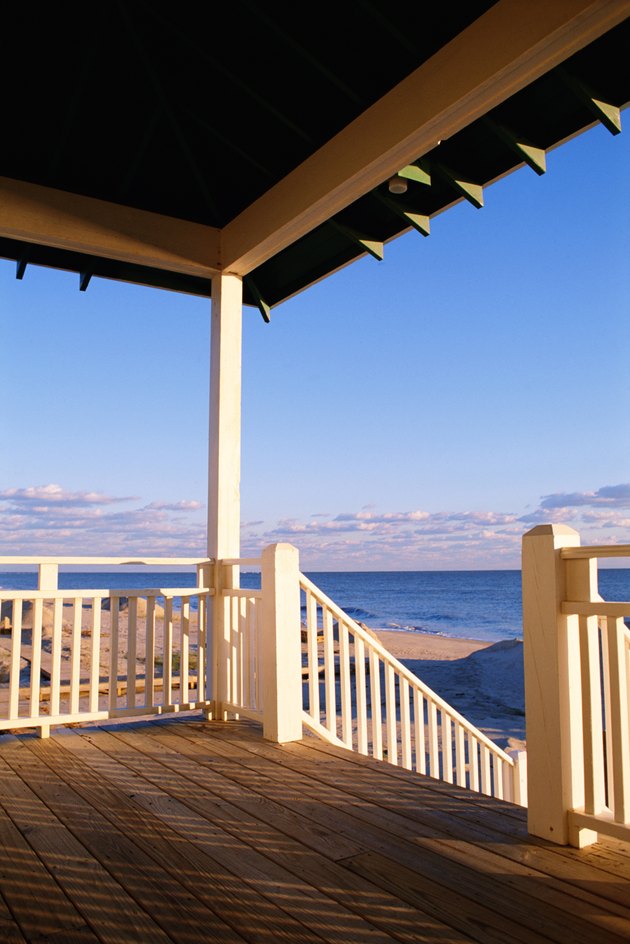 Patio awnings allow you the opportunity to enjoy your outdoor area in a comfortable shady setting. Patio awnings are available in a variety of styles, sizes and colors and enable you to add a custom look to your home. Awnings can be retractable and operate either manually or with a motor, or they can be a freestanding unit. Most top-rated awning companies offer several choices in both style and design.
SunSetter Awnings
SunSetter offers retractable deck awnings that are promoted as a do-it-yourself project. These awnings extend approximately 9 to 10 feet from the house and are available in sizes ranging from 3 to 20 feet. The awnings are offered with a manual crank or with a motor. They do not offer custom sizes. SunSetter awnings offer two fabrics, acrylic and laminated, which are available in a variety of colors. SunSetter offers a 5-year pro-rated warranty which does not cover damage caused by wind or rain. SunSetter Awnings have received the Good Housekeeping seal.
Durasol
According to the Durasol website, their products have been the best-selling brand of custom-made professionally installed shading systems for over 20 years, and many other awning review sites back up this claim. Durasol awnings are self-supporting and do not require vertical supports. They offer over 200 colors and patterns and are made with acrylic fabric and Dabond thread. The SunShelter Elite awnings are available from 6 inches to 50 inches wide and can be customized in 1/8 inch increments. Projections range from 5 feet to 13 feet. Durasol offers a complete warranty that is not pro-rated and covers 5, 10 or 12 years depending on the model. Acts of nature are not covered under the warranty.
Sunesta
Sunesta awnings offer premium, intermediate and economy awnings that are custom made to your exact specifications. Single units are available up to 26 feet and frames can be coupled for areas as large as 63 feet. The woven-dyed acrylic fabric is available in 150 different patterns and colors. Sunesta uses stainless steel and galvanized steel with MemoryAlloyTM to provide extra strength and flexibility. All units come with a 5-year warranty, which does not cover wind or rain damage.
Sunair
Sunair awnings offer high-quality awning systems available in standard sizes up to 40 feet with up to a 14-foot projection. Sunair recommends PARA fabric, which is the the same quality as acrylic fabric, but has an added coating that resists fading and offers extra resistance to dirt. The fabric is available in over 100 colors and patterns. Sunair offers seven standard frame colors and up to 240 customizable colors. Sunair is the only company that uses forged aluminum for all of their components. A 10-year warranty is offered but, as is normal in the industry, does not cover damage by wind or rain.
---
Kimberly Harris is a professional writer with an extensive background in animal health and behavior, small business, crafts and gardening. She writes content for Demand Studios. Her articles appear on eHow.com.