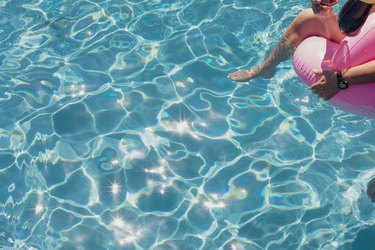 The vinyl liner on an above-ground swimming pool will last much longer — and will be more comfortable for swimmers — if there is some kind of padding layer between the bottom of the pool liner and the ground on which the pool rests. While it is possible to install the pool directly on a lawn surface (most pools are designed for exactly this) installing a perfectly smooth, flat, and slightly soft or resilient padding layer below the pool will prevent abrasion and reduce the likelihood of punctures to the pool liner.
Pools Installed on Concrete Pads
A concrete pad is actually a very good base for a swimming pool, according to pool supply company Inyo Pools, since it will be perfectly flat and level, which means the pool is unlikely to shift. But concrete is a rough surface, and it will abrade the pool liner over time. A padding layer is crucial when installing a pool on concrete, but the most common form of padding — a layer of sand — is not suitable as a base layer in this situation. Over time, the blog Above Ground Pool reveals, sand will shift and leak out from under a pool installed on concrete, ruining its ability to offer any kind of cushion. For pools installed on concrete, use other options for padding.
General Padding Installation Tips
Smooth out the pool bottom area as best as you can to remove all debris, then use small amounts of clean fill (construction waste materials that can be reused) to make the area smooth.

Apply a weed killer to the area designed to kill nut sedge (nut grass). This is one of the few weeds that may grow up through the bottom of a vinyl pool liner.
Avoid partial burial of the pool if you can. Raising the bottom of the pool slightly above the surrounding ground is better.
Clear the area for the base padding about one foot outside the perimeter of the pool wall. Fill this area with wood chips or fine gravel, and keep it free of weeds.
Options for Padding
A variety of options exist for laying down a layer of padding for your above-ground swimming pool, including the following:
There are a number of commercial products that are available for swimming pool padding, which may be the best option if your pool will sit on concrete. Some companies make pads specifically for pool floors that are precut to fit most standard swimming pools. For example, PC Pools sells 18-foot, round, above-ground pool padding for less than $150.
Lay two layers of padding to improve the cushion — most products are not very thick.

Use the pool walls as a template to cut the pad precisely to size before installing the liner.
When installing on bare ground, make sure all sticks, rocks, and other debris are removed.
Ideal for use with installations on concrete.
Can be cut precisely to fit without overlap; may be available in convenient precut sizes.
Extremely tough material, impervious to insects, pests, and plant growth.
One of the pricier options for swimming pool padding.

If your pad has a tight weave, water condensation can collect and cause mildew, metal corrosion, and mold, according to pool care blog Poolonomics.

A layer of sand spread out on the pool site is the old standby for above-ground pools installed on bare-ground yard sites. Inexpensive and easy to use, sand sometimes is combined with other methods — such as laying sand down first, and then installing a commercial product over it.
Remove twigs, rocks, and other debris from the pool site.

Fill in low spots to create the flattest surface possible.

Make sure to rake out the sand into a smooth, flat layer before installing the pool over it.

An inexpensive option.

Easy to install.

Will not work for pools that have already been installed on concrete.

Sand may leak out or wash away from under the pool, according to pool care website intexpoolsite.com.

Insects and other pests may tunnel into the sand beneath the pool.
Solid foam insulation can be ideal on a concrete surface. One of the benefits of solid foam insulation is that it's made of polystyrene or polyurethane and thus is easily cut and shaped. This is according to home services provider Dr. Energy Saver. Plus, solid foam insulation can be purchased in a variety of thicknesses and won't slide around on concrete when an above-ground pool's water weight is placed on it.
Look for material rated for outdoor use.

Use the installed pool walls as a template to cut pieces to fit precisely; install the liner after the padding is installed inside the pool walls.

Easily cut and shaped.
Many thicknesses available.
Will not slide around on concrete.
Thicker layers are excellent for use on concrete, where commercial pads may not offer a sufficient cushioning.
Can be expensive.

Cutting to fit can be complicated and time-consuming.

Traditional felt carpet padding is usually frowned upon as a pool padding material, according to the Pool Homeschool blog, but modern closed-cell foam carpet pads can work well. Those marketed as "memory foam" pads work for an above-ground pool sitting on concrete. Like rigid-foam sheets, carpet padding comes in different thicknesses and can be easily cut and shaped. If you're considering carpet padding for use under an above-ground swimming pool's floor, go with one that's rated for high-traffic areas. Depending on how soft you want your pool floor to be, you may need two layers of carpet padding beneath it to be effective.
Make sure to use dense foam pads, not traditional rubber or felt fiber padding.
Choose a pad that is described as "memory foam."
Widely available and inexpensive.
Easier to cut and fit than rigid foam sheets.
Does not offer the same degree of cushion as many commercial pool pads or rigid foam sheets.
May require two layers to offer sufficient cushion.
Similar to carpet padding, some types of small-cell underlayment sheets — such as those used to deaden sound transmission or as an underlayment sheet below floating plank floors — can be used as a pool pad.
Multiple layers must be used; these are very thin products.
Less expensive than commercial pool pads. One of the least expensive options for pools on concrete, according to Pool Homeschool.
Will shield the bottom of the pool against abrasion, but offers minimal cushioning.