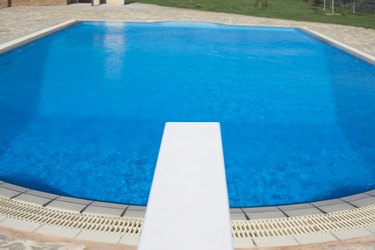 If you re planning to install a swimming pool in your backyard, you'll need to make a number of decisions, including what type of vinyl liner to use. You will also need to know how durable or thick the liner is.
Liner Gauges
Vinyl liners for swimming pools come in a variety of thickness or gauges. Depending on whether a vinyl liner is going into an above-ground or an in-ground swimming pool, its thickness will run from 15 gauge up to 30 gauge. The gauge represents the thickness of the liner, which is measured in millimeters. A 20 gauge swimming pool vinyl liner would be thinner than a 25 gauge vinyl liner, for example, with 20 gauge and above pool liners going into in-ground pools.
Liner Warranties
The standard gauge for vinyl swimming pool liners for in-ground pools is 20 gauge, or 0.46 millimeters. A 20 gauge vinyl swimming pool liner typically comes with a 15-year warranty. A 25 gauge -- 0.57 millimeters -- vinyl liner, on the other hand, is most often offered with a 25-year warranty, depending on the liner manufacturer.
Liner Durability
A 20 gauge vinyl swimming pool liner is thinner than a 25 gauge liner. Though the thickness of a vinyl pool liner doesn't always guarantee long liner life, a thicker liner is usually more durable than a thinner model. If you have an above-ground or in-ground swimming pool that sees heavy use it's often better to go with a thicker vinyl pool liner. Both 20 gauge and 25 gauge vinyl pool liners are typically made with double-weld seams to enhance durability.
Liner Cost
The thicker and more durable a vinyl swimming pool liner is the more it tends to cost. For example, at the time of publication a 21-foot 20 gauge vinyl pool liner was selling for nearly $247. A similar 25 gauge liner was selling for almost $334. Vinyl swimming pool liner costs also depend on any patterns or designs and textures. Special designs, patterns and textures on a vinyl pool liner will add to its overall cost.
Considerations
Both 20 gauge and 25 gauge swimming pool vinyl liners have varying degrees of resistance to pool chemicals like chlorine. Vinyl pool liners also attach to swimming pools via overlap fastening, beaded fastening or J-hook fastening. In some cases, 20 gauge vinyl swimming pool liners will cost more than 25 gauge liners. For example, 20 gauge premium pure vinyl pool liners often cost more than 25 gauge vinyl liners using standard vinyl.