A clean, slick and shiny bar top is a beauty to behold in any space. Epoxy coating will give the grain you love a proper shine and reveal all its hidden exquisiteness. With the proper technique, and a little patience, you won't have those frustrating bubbles popping up on your perfect wood surface.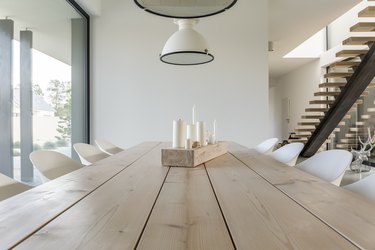 Slow and Steady
A clear coat can showcase the beauty of the wood grain of your table top, so long as you know what you are doing before the first drop of epoxy hits the grain.
First, you'll need to prep your surface to get a bubble-free surface. Epoxy sticks to almost anything, including flecks of dust or shady areas of worn wax or polished places. If you've washed it with oil soap, you'll want to give it a good sanding to remove any future problems that lie beneath the surface of the wood. Sand your wood surface with the grain to pull out all the beauty it has waiting under that dull finish. This will give you a more pristine result. Make sure that the environment you are working in is above 64 degrees and the epoxy isn't cold. This will save you from bubbles popping up or creating craters due to cold epoxy on warm wood. If the epoxy is chilly, it will make the wood expand as it rolls across the fibers.
There are a few good products out there that favor DIYers with little experience. Pro Marine Supplies has a table top epoxy and hardener. Super Glaze and Valspar are also easy to apply. Look around and find an epoxy that has had good results for the type of wood you are planning to prepare.
Get Going
Once you begin, you'll want to be in it for the long haul, so save a chunk of time when the temperature is best. Apply multiple, even and thin coats for your best result. Don't just slather and swipe. Use the roll and tip method, which is rolling on a thin layer of epoxy with your foam roller and then dragging another roller that is cut into sections behind it. If your wood is rough, a few bits may break off with the first application. If so, give it a good sanding once that first coat is dry to get a level surface. Apply the next coat once the epoxy is tacky. If you see any air bubbles, the heat from a hair dryer will push them out. Apply at least two and up to four coats for a thick finish that isn't easily penetrable.
Epoxy, when applied correctly, will enhance the aesthetics of the wood project and seal it for daily wear and tear for years.