Things You'll Need
Safety glasses

Respirator mask

Screwdriver

Isopropyl alcohol

Putty knife

Washing soda

Sponge

Bucket

Hand sander

Rust neutralizer

Epoxy filling compound

Towel

Masking tape

Paintbrush

Primer

Ep-Acrylic paint with gloss finish

High volume/low pressure paint sprayer

Silicone caulk

Caulking gun
Tip
Allow plenty of time for the surface to dry between stages of refinishing.
Proper caulking is important to keep water from getting behind walls and down into the bathroom flooring. LoveToKnow.com offers tips for easy and proper caulking around the tub.
Warning
Follow all safety directions on the chemical labels.
Keep the area well ventilated and wear safety glasses and respirator mask to avoid toxic fumes.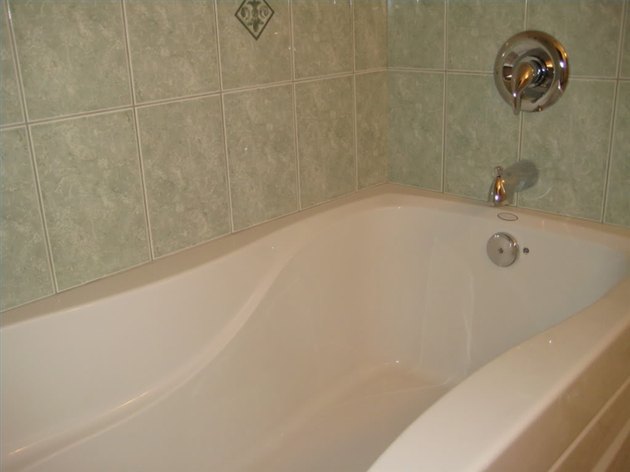 Chips, scratches, rust and wear on an acrylic tub make the entire bathroom seem outdated and drab. Replacing the tub can be time consuming and costly. Epoxy filler can repair the damage, even with older scratches. Change the color or simply bring back the original surface sheen using a little acrylic paint. Refinishing an acrylic tub is a do-it-yourself project that provides lasting beauty to your bathroom.
Step 1
Remove all of the old caulking with a screwdriver and wipe the area with isopropyl alcohol. Remove any remnants with the caulking knife. The surface needs to be free of all silicone caulk.
Step 2
Clean the tub with a mixture of one part washing soda and four parts warm water. Rinse well and dry. This will remove all traces of cleaning products and bath soap.
Step 3
Remove rust stains by lightly sanding the surface of the tub with a hand sander, and apply a rust neutralizer. This is available at home improvement stores.
Step 4
Fill areas that are chipped or deeply scratched with an epoxy filling compound. Follow label directions for drying time. Lightly sand with the hand sander once the filling compound has completely dried. Rinse the surface and dry with a towel.
Step 5
Tape the walls and plumbing hardware so you don't accidentally spray them. A wide roll of masking tape works well.
Step 6
Apply one coat of primer on the tub surface with a paintbrush. Allow it to dry and add a second layer.
Step 7
Apply three thin layers of Ep-Acrylic paint using the high volume/low pressure paint sprayer. Sanding between each layer of paint provides a glossy finish. Allow 48 hours to dry. Apply silicone caulk to seal the tub edges.
---
Claudia Henning began her writing career as a "Lake Sun Leader" columnist in 1989. Her experience includes radio and Web writing, where she specializes in construction and home improvement project methods. She has an Associate of Science degree in physics/math from Del Mar College.