Things You'll Need
Paint scraper

Hair dryer

Heat gun

Sandpaper

Drywall mud

Putty knife
Tip
Put a fine layer of joint amalgam on the walls' surface to smooth it out before repainting it.
Warning
Cleaners that use oils as bases must never be used because these will leave stains on the walls.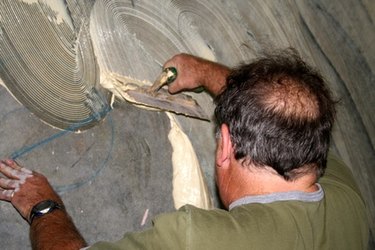 Give a room a whole new look by simply putting in new wall paneling. Taking old paneling off the wall in preparation for new paneling can be tedious, and removing the glue that binds the paneling to the wall can be arduous. Wall panels are often constructed of metal or wood and are covered with textured fabrics, materials or wallpapers. Fortunately, it only takes a few items to remove stubborn paneling glue from the wall.
Step 1
Scuff off glue or adhesives on the walls using a paint scraper. Do not scrape too aggressively as this may cause deep gouges and greater damage to the wall.
Step 2
Apply heat directly to the glue with a heat gun or hair dryer set at its highest heat if the glue doesn't come off. The heat causes the glue to soften. Remove the glue off the paneling using a scraper while applying heat. Continue applying heat and scraping until all the adhesive is stripped off.
Step 3
Remove any remaining glue spots using sandpaper and a circular motion.
Step 4
Restore the wall using a mud exclusively made for drywalls. Put mud directly on the wall using a putty knife to conceal holes or scratches that were created while getting rid of the adhesive from the walls. Leave the mud to dry out completely.
---
Diana Braun began her writing career as a consultant and technical writer for a software company focusing on how-to, training, white paper, and internal process documentation. After two years, Braun left to pursue her entrepreneurial dreams. Since then, she has launched several startups including a t-shirt business, an online marketing and advertising t-shirt distribution business, and an entertainment site. She currently resides in South Florida.