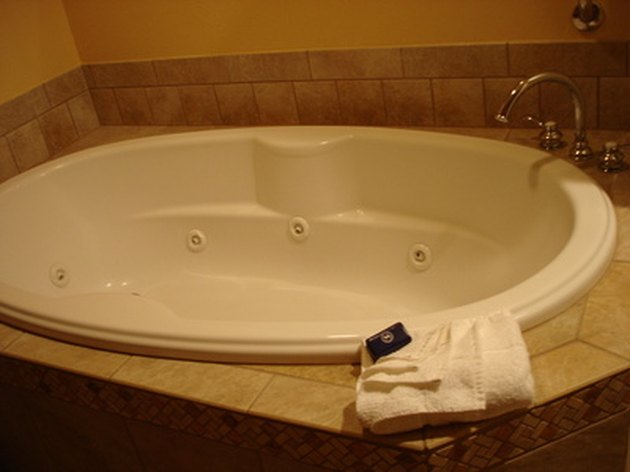 A tub with jets in the home bathroom can feel spa-like, but when they malfunction the tub will need special attention. The powered jets in the tub can be accidentally closed or become stuck. It is important to know the mechanics of the tub's jets for proper maintenance and upkeep. Keeping the jets clear and unobstructed is the first step towards keeping the jetted tub in a condition for ideal bath times.
Step 1
Check the outer ring of the jet for each jet. Make sure the ring is turned all the way to the left, as a ring turned to the right will no longer operate. This is the most common problem. Test the tub.
Step 2
Shut off the water valve to the tub, this will be on the opposite wall of the tub spout. Go to the tub and remove the service panel. This panel may be hidden by using similar materials as the tub body.
Step 3
Ensure the air compressor is plugged into the power source. Turn the jets on. Listen to each jet for air pressure. Use a pipe snake to unclog any jet that is not making noise or pushing air.
Step 4
Replace the panel on the tub. Turn the water valve back on to the tub and test the jets once again.
---
Keith Ruckus has been a professional writer for over four years. He has been published in the "Missouri Literary Review" as well as Pennsylvania's "The Colonial." A touring poet, Ruckus holds a Bachelor of Arts in journalism from Chestnut Hill College.