When it comes to removing paint stains, there are two important factors that determine the right course of action, the type of paint and the item that has been stained. After all, cleaning oil paint from furniture is a much different process than removing watercolors from the carpet. No matter what type of paint though, you should always try to blot up spilled paint while wet and try to keep the spill wet until it is cleaned to prevent staining whenever possible.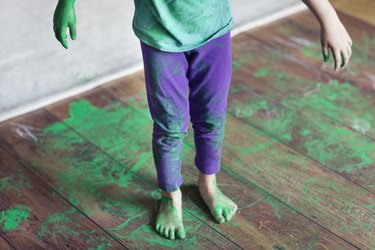 Water-Based Paint
Paints, such as watercolors, finger paints, acrylic and latex, all have a water base. These are the most common paints used in household projects and result in the majority of stains on furniture and carpet. These are much easier to clean than oil paints as the water base does not repel water like oil does. The specific cleaning process will depend on the surface that needs to be cleaned.
If the paint is wet, use a butter knife or paint scraper first to remove any large globs of paint before they settle in. Next, use a paper towel and try to blot up paint before it dries. Then, combine 1 cup of lukewarm water with a teaspoon of dishwashing detergent, and use the solution to blot out the mess starting from the outside in. Keep reapplying the solution and mopping it up until the stain is gone. Once the area is completely dry, vacuum thoroughly. If the paint has already dried, apply hot water mixed with a little dish detergent onto the stain and let it sit for a few minutes to soften the stain. Once the paint is softened, use a butter knife to scrape up the stain and a toothbrush to scrub in more cleaning solution as you go. If the paint is not coming up, try using a handheld steamer as you scrape.
Follow the same process as the carpet. But before using any detergent or another cleanser, check the fabric tag on the furniture. "W" means you can use a water-based detergent. "S" means you must use a dry-cleaning solvent. "WS" means you can use water-based detergent or dry-cleaning solvent. "X" means you can only vacuum your upholstery and that it should otherwise only be cleaned by a professional. "O" means the upholstery is organic and that no heat can be used in the cleaning process, including hot water.
Clothing should be approached similarly to carpet. First, remove any wet paint by scraping it up, then use your faucet to flush the stain from the back of the clothing. Next, use a solution of laundry detergent mixed with water to scrub away the paint, reapplying until the stain is gone. If the stain is already set, rubbing alcohol may help loosen the paint enough for you to scrape it off with a butter knife.
Use a razor blade to scrape dried paint from the surface of mirrors or windows.
Oil-Based Paints
Oil paints are most often used in art projects so they are not as common as water-based paints. It is critical you clean oil paint spills as soon as possible because they are incredibly hard to clean from most surfaces. Always check the label for oil paints for suggested removal products as some will suggest specific paint thinners in case of spills. Never use water to clean an oil-based paint because this will only spread the stain and make it worse.
If the paint is wet, use a towel to blot and absorb as much paint as possible, then use a hand-held steamer to keep the paint soft and a paperclip to separate carpet fibers as you continue blotting with a clean towel. Finally, use acetone, paint thinner or turpentine to blot the set in the paint. Before using these products on your carpet, though, you should test them on a hidden spot of your floor to make sure they do not bleach the fibers.
Oil paint cannot be cleaned from the carpet once dry, but you can cut out stained fibers. Be careful when trimming fibers or your carpet may look bare.
Because oil paints can generally only be cleaned with solvents, the codes that instruct how to clean the material won't apply. You may need to consult a professional cleaner, but the product may be permanently stained. As a last resort, you can always test a small bit of the solvent on a hidden spot of the furniture to test if it bleaches the fabric. If it seems to not cause any problems, you can follow a similar process as that used on the carpet.
Use a paint thinner as recommended by the manufacturer, acetone or turpentine to clean the fabric. Put the clothing on a thick pad of rags or paper towels and apply the paint thinner, acetone or turpentine to the back of the fabric. Use a scrub brush to push the paint out and change the towels under the clothing so you have a clean surface to scrub onto at all times. Once the paint is gone from the clothing, saturate it with a liquid detergent and work it into the fabric. Next, submerge the clothing into the hottest water suggested for the fabric type and let it soak overnight before scrubbing one more time with detergent and then laundering your clothing. Although some clothes should not be exposed to solvents, the alternative is to leave the stain, which may ruin the clothing anyway.
Oil paint can be removed from glass by using a solvent or a using a razor blade to scrape off the paint.
Wood and Tile
These two surfaces are not as affected by what type of paint you use. But even so, always proceed with caution and consider testing your removal method in a hidden area before working on the paint itself. To remove paint on tile or wooden surfaces, use a scraper or razor blade to strip paint up if you can do so without damaging the surface. Alternatively, you may try using a heat gun to soften the paint before scraping, but be sure your surface can stand up to the temperature. Finally, you can also use a solvent before scraping the paint off, but be sure that it will not bleach or otherwise damage the surface first.