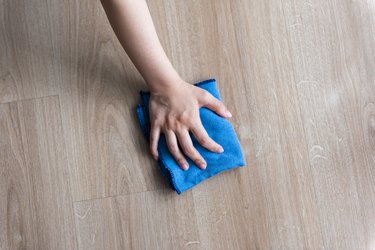 Cleaning can be an essential part of self-care for some people. The feeling of getting something done and the smell of a clean space could send anyone to bliss town. After a long day of cleaning, though, there's nothing worse than seeing a layer of residue on your supposedly pristine hardwood floors. Your floor may be clean, but you need to take extra steps if you have to remove cleaner residue from wood floors.
Floor Cleaner Residue
Take a mental inventory on every time you've cleaned your wood floors. If they're always sticky or have a layer of residue, technically, you're not doing anything wrong. It's the product that you're using to clean your wood floors. Floor cleaners do make floors clean, but you have to look at what they're formulated with before you use them. A lot of cleaners contain three main ingredients: water, solvents and surfactant.
The solvents will cut through dirt while the surfactants make it easier to wipe up the dirt. Unfortunately, it's the surfactants that cause the residue on wood floors. That's why it's important not to mix cleaners. Also, you should stick to one cleaner per wash. If you're noticing that your floor is always sticky, then you may need to dilute your cleaner because of the number of surfactants in the bottle.
Removing Floor Cleaner Residue
If you're the type of person that likes to make do-it-yourself solutions to clean their house, you may be upset to learn that vinegar is not the best ingredient to use when cleaning wood floors. It can leave marks, as well as eat away at certain types of wood. So, although you could use vinegar to clean your wood floors, you should try to limit the amount you're using, and how often.
When you're cleaning hardwood floors, many people think that they're cleaning the actual wood. You're actually cleaning the protective layer on the hardwood floor. Vinegar is slightly acidic, so over time, it can break down the finish of your floor. This will leave your floor looking dull over time.
Windex on Wood
If your floors are always getting sticky, try using an ammonia-free glass cleaner on wood like Windex. Ammonia cleans up sticky stains and scuff marks. A lot of people stay away from ammonia because it has a strong chemical smell, so if you hate that smell, try diluting it.
Always make sure that you rinse the Windex on wood, or it will damage your floor over time. When cleaning with Windex on hardwood floors, all you have to do is spray sections and let it sit for two minutes. After it sits, wipe up the dirt. Then, go over the floor one more time with a clean damp cloth to remove the Windex.
Other Residue Removal Hacks
Before you clean your hardwood floors, always sweep or dust mop to get rid of dirt or debris. Don't soak your floors with a lot of liquid; instead, spray a light mist. You can use a mop, but they leave a lot of water on hardwood floors, so use a microfiber mop instead.
Cloudy Wood Floors
In order to not get cloudy wood floors, prevention is always key. You should always keep maintenance up with the wood floor, as well as stay away from oil soap, wax or wood cleaners that will damage your floor. Also, if you like to use ammonia on your floor, don't use it often. If you use ammonia every day, it can strip off the finish, as well as warp the wood floors.