Things You'll Need
Bucket

Chlorine bleach

Long-handled stiff broom

Shop vacuum

Leaf blower

Chisel

Flat blade screwdriver

Sand
Tip
Wear rubber gloves and a dust mask when removing mold.
Warning
Do not use a power washer to clean in between pavers as the high pressure will dislodge the sand from under the pavers and create unstable paving stones.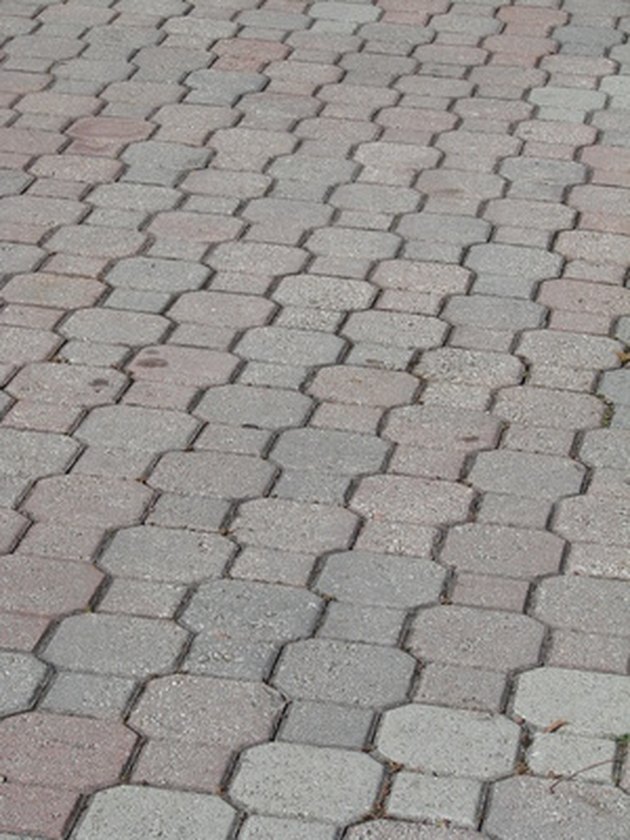 Laying paving stones for a patio or walkway offer an aesthetically pleasing surface. Unfortunately, mold and mildew grow between the stones detracting from their natural beauty. This is especially true if the pavers lie in a shady area or the climate is perpetually damp. Pavers, natural stone or man-made, are equally susceptible to mold growth. Sand or mortar that fills the space between paving stones is also susceptible to mold growth.
Mold on Sides of Pavers or Mortar Joints
Step 1
Fill a large bucket with warm water and add one cup of chlorine bleach per gallon of water.
Step 2
Pour a small amount of the bleach and water solution onto a concealed area to test for colorfastness. Allow the water to remain on the surface for 10 to 15 minutes, rinse off and inspect for any color changes. If the bleach changes the color, add more water to make a solution of 3/4-cup bleach per gallon of water and repeat the test. Lower the bleach to water ratio by 1/4 cup each time.
Step 3
Dip a long-handled stiff broom into the mixture and scrub the pavers to remove mold. Allow the bleach and water to remain on the surface for a minimum of 10 minutes. If pavers have sand joints, some of the sand in between the pavers may dislodge during this process, which will actually help to abrade the mold from the surface.
Step 4
Rinse well with plain water and allow the pavers to dry fully. If this cleaning process removed a lot of sand from between the pavers, pour fresh sand on the surface and sweep a broom back and forth until sand refills the void spaces.
Mold on Sand Joints
Step 1
Remove the sand from between the pavers by vacuuming with a shop vacuum, blowing out with a leaf blower or picking out with a chisel or flat blade screwdriver.
Step 2
Pour new sand on the surface of the pavers.
Step 3
Use a stiff broom to sweep the sand into the spaces between the paving stones, Add more sand and sweep until the sand reaches the same height as the paving stones.
---
Sal Marco began writing professionally in 2009. He has written many online home improvement articles based on his more than 20 years of experience in the home improvement and building industries. He has worked as both part of a team and as a site supervisor. Marco has a Bachelor of Science in management science from Kean University.