Cast iron sinks are formed from cast iron, dipped in enamel and fired at high temperatures to bake the enamel onto the surface to create a durable sink. But enamel-coated cast iron isn't indestructible. Pots and pans or vigorous scrubbing with a scrub brush can cause scratches. Rather than replace the entire sink, which would cost hundreds of dollars, start with a few inexpensive, at-home remedies for cleaning or patching the scratches.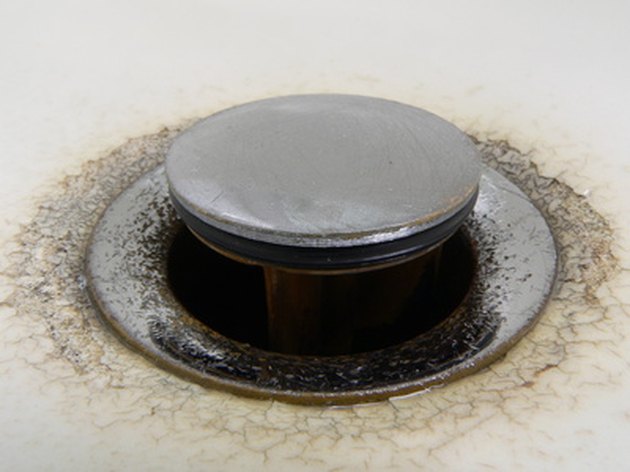 Step 1
Wet the sink and apply a small amount of nonabrasive household cleaning gel with bleach to the scratch. Rub the scratch firmly in a circular motion with a scrub sponge. Rinse the sink. This method will eliminate surface scratches. For deeper scratches, proceed to patching.
Step 2
Follow manufacturer's directions for mixing the repair paste in a repair kit. The repair paste should become a thick putty.
Step 3
Spread the paste across the surface of the scratch. Remove the excess with the blade of a putty knife. Let the paste dry for two hours.
Step 4
Sand the repaired area with the included sandpaper to make the cast iron surface smooth to the touch. Remove any sanding dust with a damp rag.
Step 5
Spray the cast iron sink with enamel spray. Apply the enamel in a thin, even coat. Move the spray can back and forth in a steady motion. Allow the first coat to dry to the touch. If you can still see the outline of the patched area, apply an additional coat of enamel spray. Allow the enamel to cure for four days before using the sink.