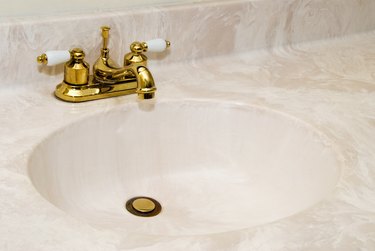 Cropping up in bathrooms all over the country, cultured marble vanities are popular for their realistic appearance as well as their affordability. Cast from polymers in a combination of natural and synthetic materials, such as resins, pulverized stone, and actual marble, engineered stone is as gorgeous as it is durable and long-lasting.
With proper maintenance and upkeep, cultured marble vanities can last for years. Yet even with your best efforts, this man-made material is prone to superficial scratching and discoloration. If you've noticed that your vanity is looking a little dull, don't assume you're stuck with this lackluster countertop. You can easily polish out surface scratches that haven't gone all the way through the gel coat (typically 30 to 50 mils thick) by employing a fairly simple do-it-yourself method that can be completed in a matter of a few hours.
How to Refinish a Cultured Marble Vanity
Step 1: Prep the Surface
Clean off the countertop with a damp cotton rag or cloth to remove dirt, dust, oils, soap residue, and other debris. Let dry.
Step 2: Polish It Up
Apply a small amount of polishing compound to a clean rag. In small, circular motions using light, even pressure (and following the instructions on the can), work section by section until the surface shine has been restored to your satisfaction.
Step 3: Buff With Rubbing Compound
If light scratches remain after completing Step 2, try buffing away the cosmetic blemishes using a low-abrasive rubbing compound, which can be found online or at most automotive supply stores. Be sure to follow the label instructions carefully. Follow up with polishing compound to remove scratches made by the rubbing compound.
Step 4: Sand Down Scratches
If the surface of your vanity still needs to be smoothed, dampen a piece of fine, 1200-grit wet/dry sandpaper. Starting at the edge of the vanity, begin gently sanding the surface, working your way to the other end, section by section. Be extra careful not to apply too much pressure, so you don't break through the protective gel coat. Follow up with rubbing compound and polishing compound to remove scratches made during sanding.
Step 5: Check the Surface Periodically
Inspect the countertop periodically to determine if micro-scratches are still visible. If so, repeat Step 4.
Step 6: Remove the Residue
Use a cloth dampened with clean water to wipe off any residue left behind and let the surface dry.
Tip
Before attempting to remove scratches from your cultured marble countertops, always do a test in an inconspicuous area first.
Warning
If your cultured marble vanity has deep scratches or gouges that have penetrated the gel coat, it's recommended that you call a professional cultured marble expert for advice before proceeding.