Things You'll Need
Pressure washer

Sealer

Sponge roller

Metal sprayer
Warning
To prevent the pavers from becoming white, never use sealer on wet brick pavers.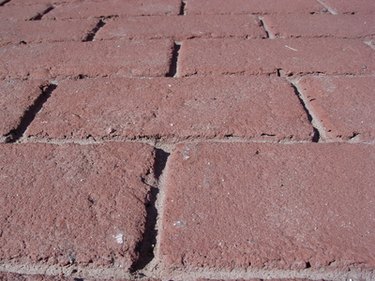 Brick pavers can become faded and lose their luster after a period of time. They are generally used on patios, sidewalks, pool decks and along driveways. They can be used to enhance the exterior of the home, giving it a elegant look. In addition to the appearance, brick pavers can add value to your home. Unfortunately, they sometimes need some sort of restoration at some point. Fortunately, you can easily restore the faded color of your brick pavers with a few simple techniques.
Step 1
Remove dirt and grime from the brick pavers by using a pressure washer or a long-handled brush. You can use oxygen-bleach solution to remove mold or algae.
Step 2
Leave the brick pavers to dry completely for at least one to two days.
Step 3
Apply a sealer to the brick pavers using a sponge roller or a heavy-duty metal sprayer. Use a solvent-based sealer for best results. Let the pavers dry thoroughly for 24 hours.
---
Jennifer Patterson started her writing career as a freelance writer in 2008, contributing how-to articles and other pieces to various websites. She is an expert in the field of computers and health care and attended Miami-Dade community college, where she received an Associate of Science in computer science.