Things You'll Need
Cream of tartar

Water

Mr. Clean Magic Eraser

Porcelain repair kit
Tip
Try the baking soda, cream of tartar or Magic Eraser before using a repair kit or calling a professional. Many surface scratches will come off using these methods.
Warning
Do not use highly abrasive cleaners on porcelain, which could cause further scratching of the surface.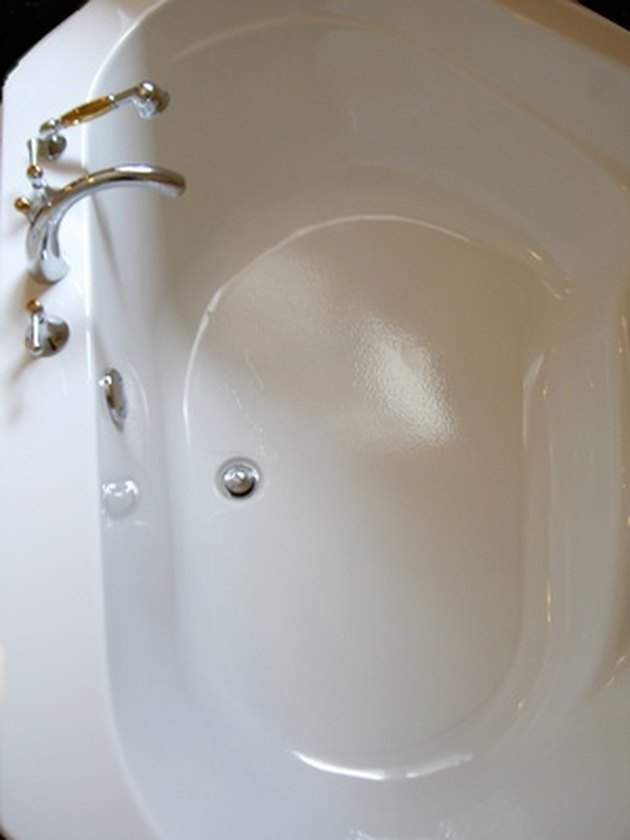 Scratches in porcelain bathtubs are less than attractive and reduce the value of a home. Over time, small surface scratches develop due to many different factors. Toys, dropped shampoo bottles and scrub brushes in the tub are just a few things that are known to cause a bathtub to become scratched. Bathtubs don't have to be replaced due to scratching, however. There are several tried and true methods of removing scratches from a bathtub.
Step 1
Clean the bathtub with a paste of cream of tartar and water. Cream of tartar provides gentle cleaning that will not damage the tub. Use 1/4 cup cream of tartar and 1 to 2 tablespoons of hot water to make a paste. Apply cleansing paste with a sponge, using a circular motion.
Step 2
Scrub the bathtub with a mixture of baking soda and warm water. Simply sprinkle baking soda in the tub and clean with a wet sponge. Rinse the tub several times to remove all traces of baking soda. Baking soda is slightly more abrasive than cream of tartar but will not damage porcelain.
Step 3
Remove scratches on a porcelain tub with a Mr. Clean Magic Eraser. Wet the magic eraser with warm water and rub over scratches. Apply a small amount of pressure over scratches, rubbing in a circular motion until scratches are gone.
Step 4
Use a porcelain repair kit, found at many hardware stores, on large scratches that do not respond to other methods of cleaning. Follow manufacturer's directions when using a repair kit.
Step 5
Hire a professional to resurface the bathtub if other methods do not remove scratches. Have a new coat of porcelain applied to the bathtub as a last resort.