To refresh your carpet without the expense and hassle of a shampooer, sprinkle a dry carpet cleaner onto the fibers before you vacuum. Commercial dry cleaning mixtures exist, but chances are you already have supplies on hand to create your own. You can get the same great results with these homemade dry carpet cleaners, which can tackle anything from carpet odor to tricky stains.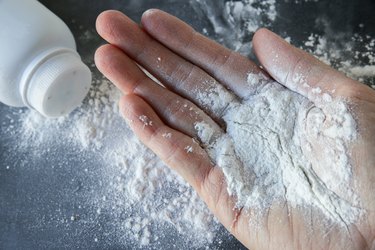 Three Powerful Dry Carpet Cleaning Ingredients
Borax, baking soda and cornstarch are the three superpowers when it comes to dry carpet cleaning. You can use them alone or together to freshen your carpet and remove tough stains. Borax and cornstarch lift stains while baking soda eliminates odors.
Other Ingredients to Try
Baby powder has a light, pleasant scent that helps mask and remove odors in carpets just like baking soda. Because of its light texture, it's easy to work it into the carpet fibers. However, it can also be hard to vacuum out for the same reason, and you may need a heavy-duty shop vac to do the job. Leaving it in the carpet is not a problem if you don't have children who spend a lot of time on the floor where they can potentially stir up and inhale this fine powder.
You can add herbs and essential oils to dry carpet cleaning ingredients for a stronger scent. Bay leaves, rosemary and cloves are popular herbs for this purpose. A few drops of orange, mint or lavender essential oils replace that dirty carpet smell.
Finally, salt and meat tenderizer are two other dry ingredients that can be useful depending on the stain you're fighting. Salt dilutes and lifts wine and ketchup stains, as well as residue left from spilled greasy foods. Dry meat tenderizer is useful for bloodstains when blotted with a bit of cold water.
Sample Homemade Dry Carpet Cleaner Recipe
For a powerful effect, combine multiple ingredients. Here's just one recipe to try:
1 cup cornstarch

1 cup baking soda

1 tablespoon borax

1 tablespoon cloves

Mix all the ingredients together in a bowl and transfer to a jar or an old container with a shaker top, such as a large spice jar. If the scent isn't strong enough, add more cloves or a different kind of herb.
How to Use Dry Carpet Cleaners
Dry carpet cleaners need time to settle into the carpet fibers and react with dirt and grime. For best results, vacuum the carpet thoroughly to remove any dirt that is already loose. This helps the cleaner target the ground-in dirt.
Next, generously sprinkle your homemade cleaner over the carpet. With a stiff brush or a broom, sweep the powder over the carpet from all angles to help the cleaner settle into the carpet.
Wait about one to two hours before vacuuming. Just as you did with the broom, make sure to vacuum from all angles to maximize the likelihood of removing all the cleaner and thus all of the dirt.
Alternatively, you can add your dry carpet cleaner to a wet spot on your carpet after blotting it to the best of your ability. The dry ingredients will absorb any remaining moisture, preventing stains from setting or mold or mildew from taking hold.
When removing a fresh stain with salt or meat tenderizer, don't let the cleaner sit for more than 10 minutes before blotting it up and vacuuming the area, or the stain may dry out and settle within the carpet fibers.