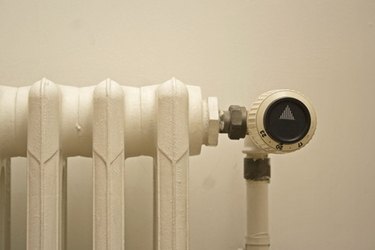 Radiators heat a room by pumping or pressurizing the hot water in the radiator, making the radiator the heating element. This heating element heats the air in the room. Even though radiators are relatively old technology, they are still present in many homes today and new designs are available. They are very simple in design, but do have a few parts that can be identified.
Water Shut-off Valve
The water shut-off valve is located at the bottom of the radiator where the hot water supply pipe enters the radiator. Usually, this valve would be turned on to allow the hot water to run through the radiator. If servicing is required, turn off the valve to stop the supply of hot water into the radiator.
Bleeder Valve
The bleeder valve is located at the top of the radiator on one side. If the radiator is warm on the bottom and cold on the top, this is because there is air in the radiator that needs to be released. The bleeder valve can be opened with the heating system off to get the air out of the radiator and allow the water to circulate throughout the radiator.
Radiator Fins
The radiator itself is designed traditionally out of cast iron and is a very heavy unit. Cast iron was used because it is a good conductor of energy, meaning it gets hot easily when hot water is applied through the system. In newer style radiators, the steel panels are flat, giving the radiator more surface area and allowing it heat the same size rooms at lower water temperatures.
---
Adam Yeomans has been writing professionally since 2010, with his work appearing on websites such as eHow. He works in the construction industry as a builder and as an energy efficiency consultant.