The power went out, and it's cold outside. Luckily, your power is now back on, but your furnace is not. Restarting your furnace is common after a power outage, regardless if it was a brief flicker of lights, a brown out or an outage that lasted several hours or days. There are many ways to revive your furnace if simply hitting the reset button doesn't produce results. Before you call an HVAC company to examine your furnace, do some troubleshooting.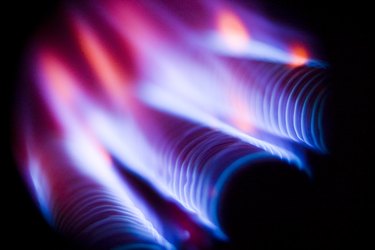 Determine the Cause
Check your control panel to determine if it needs to be replaced. Many panels will flash an error message if they are in need of repair. If your panel indicates that it is in need of repair, attempting to restore power using the steps below will not work. Instead, call a professional to repair your control panel.
If a lightning strike was the cause of the power outage, it's possible that it resulted in a blown fuse. This is also a fixable problem and much less expensive than replacing your entire control panel. However, it is also best to have this handled professionally.
Was neighborhood construction the cause of your power outage? If so, it's possible that power or gas lines may have been damaged. Those will need to be repaired in order for your furnace to work properly. Again, this is not a problem that you should handle.
If you've completed the steps below and your furnace still does not turn on, then it is possible that parts of your unit could be damaged. Call a professional to inspect, determine the cause and repair your furnace.
Safety Comes First
If there is standing water inside your home, you and your family's safety could be at risk. Do not attempt to fix your boiler – or any other electrical problem – if it has been exposed to water. It is likely that your furnace will need to be replaced, not repaired, but it is not safe for you to examine the unit. The inspection and replacement work must be handled by qualified professionals, not homeowners.
If your furnace is over 20 years old, it can be dangerous. These units were created with pilot lights that are manually controlled, and even a slight problem could produce carbon monoxide gas. This can build up in your home, poisoning everyone inside. Old furnaces can also cause house fires due to the pilot light, leaks in the gas line or bad ventilation. If your system has reached the end of its life expectancy, which is 16 to 20 years, it is safest to have a professional inspect and repair your system.
You Engaged The Safety Lock
When you do hit the reset button on your furnace, do so one time only. Repeatedly and quickly pressing the button will actually engage your furnace's safety lock. Your unit could also lock up if it was subject to repeated power outages.
Check Your Thermostat
Did your thermostat go off as well? Check to see if the power is still off. If so, turn it on and set to heat or the automatic fan setting. If it's already on, restart it. Make sure you've set a temperature that is high enough to increase the warmth in your home.
If your power was out for more than five minutes and you own a newer thermostat, it is possible that it had automatically reset. Many are now wired directly into the furnace, and if the power goes out, so will your thermostat. If it's out for an extended period of time, your thermostat may reset to the factory default, and you will either need to read your manual or have an HVAC contractor handle the reset if it's complex.
Go To Your Breaker Panel
A power outage can cause breakers to trip, but they are easily reset by turning the breaker off and then back on. For an unlabeled panel, most furnaces use a 15A circuit, so check to see if any of those breakers were tripped during the outage. If your system includes a heat pump, review the indoor and outdoor breakers for the pump as well, resetting them if needed.
Examine Your GFI Outlets
Furnaces installed during the last 10 years may be connected to a GFI outlet. If your basement is at risk for water damage, then it is even more common to use a GFI outlet. During a power outage, the outlets can trip. Examine each outlet that is attached or near the furnace to see if it tripped during the outage. If so, press the reset button on the GFI outlet.