Things You'll Need
Drop cloths

Tape

Latex primer

Paint (enough for two coats)

Roller and pan

Soft-bristled paintbrush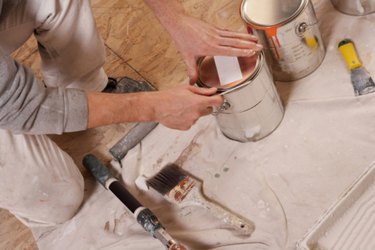 Textured or anaglypta wallpaper can be painted like a regular wall and is an excellent option for adding texture without needing to apply putty or other materials under paint. It also covers plaster well, so it can be used as a wall covering for older homes when replacing the plaster with drywall is not possible or desirable. The process for painting textured paper is similar to the process for painting drywall, so no special tools or skills are needed.
Step 1
Lay down drop cloths, covering any surfaces and the floor to protect from dripping paint. Tape plastic cloths over windows and doors if you are a messy painter or if you need to ensure maximum protection. Otherwise, tape the edges of trim to keep them clean. Remove any outlet or switch-plate covers
Step 2
Cover the wall with a latex primer before painting. Apply the primer with a roller and touch up any unreachable areas with a brush.
Step 3
Cover the wall with paint using a roller. Use slower motions than you would on a smooth wall, allowing the paint to soak into the cracks in the textured paper.
Step 4
Brush paint onto any areas that have not been adequately covered. Press the ends of the bristles into any deep cracks that still have not been reached. Textured paper can be scuffed easily, so don't press too hard with the bristles. Instead use short, gentle motions to apply the paint.
Step 5
Apply a second coat to the wall, even if it appears to have been adequately covered. The paint will continue to soak into the paper until fully dry, which will lighten the color of the paint slightly or make inadequately covered areas more noticeable.
Step 6
Allow the paint to dry, and then touch up areas as needed. Remove the tape and drop cloths.