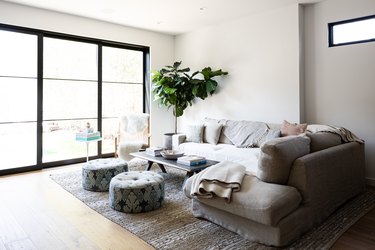 Often considered purely a decorative element, area rugs are actually an integral part of the interior design arsenal and can dramatically impact not only the way a space feels but the way it looks. Rugs provide softness, warmth, and visual focus, offering a place for the eyes to land. Sure, there's a utilitarian component by absorbing sound and offering insulation, but a rug's size, color, and pattern can also alter how spacious and open a room appears.
If you live in a small apartment or have spatially challenged rooms in your house, like a small bedroom or dining room, you might want them to appear larger. On the other hand, you may have a space that simply feels too big, such as a large studio apartment, and you'd like to define a specific area or you might just want your space to have a more cozy feeling. Well, believe it or not, you can actually use area rugs to make a room look smaller or bigger by taking color and size into consideration.
"For smaller rooms with dark floors, I like to use a larger rug with mid tones that complement the floors without creating too much contrast since lighter colors tend to make rooms appear larger. I prefer natural woven or jute flat weaves, faded patterns, or a rug with a small repeating pattern to provide a more spacious feel," says Beatriz Rose, founder and principal designer of byrdesign. "While it's important to scale down patterns in small spaces, you do want to avoid small rugs. For example, using a rug that only covers the coffee table area may chop off the room. Instead, choose rugs that all of your furniture can comfortably rest upon. I also avoid area rugs with wide rectangular borders that may increase the feeling of being boxed in."
When shopping for a rug, the most important thing to consider is location, specifically where the rug is going in a room. If you're hoping to make a small room feel larger, pay close attention to size, pattern, and color. Most people err on the side of selecting smaller rugs for smaller rooms, which makes them feel even choppier and cut off. Rugs in pastels or lighter hues create an open feeling, which is important in smaller rooms, and don't forget about pattern — smaller spaces call for scaled-down patterns to avoid looking cluttered and busy.
On the other hand, if your goal is to rein in a larger space, look to larger-scaled patterns and brighter hues and consider carving out areas or zones using area rugs.
Thirsty for more? Read on for the best ways to use rugs in both small and big spaces.
5 Ways to Make a Small Room Look Bigger With a Rug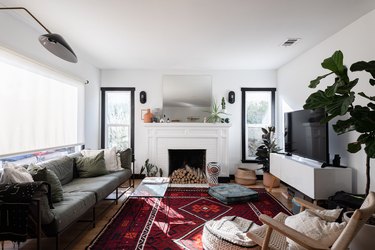 While small spaces are beloved for their inherently cozy and inviting feel, if you live in a home with small rooms, you might be longing to make them feel a little bit larger. Take note: There are things you can do to add a feeling of expansiveness.
In smaller spaces, you want to minimize clutter, but that doesn't mean you need to steer clear of rugs. In fact, they're the ideal decorative addition because they can add visual weight and interest without adding more clutter. Here are five clever ways that you can use rugs to make your room look bigger than it is.
1. Opt for something with stripes.
Strategically patterned rugs can do wonders at creating the illusion of more space. Just as walls painted with vertical stripes will give the feeling of height and horizontal stripes can make a room feel wider, the same principles apply to rugs. You can also opt for a rug with offset stripes like the one used in this small living room for an unexpected alternative to more predictable straight lines.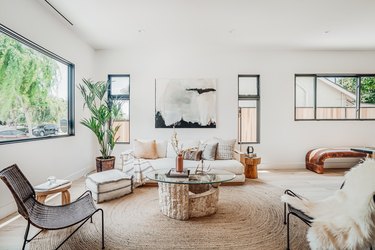 Less ubiquitous than a standard rectangular rug, round rugs are a unique way of visually expanding a room and making it feel larger. They introduce warmth by softening the hard edges present in most walls and pieces of furniture, but they also add a bit of whimsy to interior spaces. Opt for a design with visible concentric circles like the one in this living room to enhance the feeling of openness by encouraging the eye to fan outward.
3. Embrace a small pattern.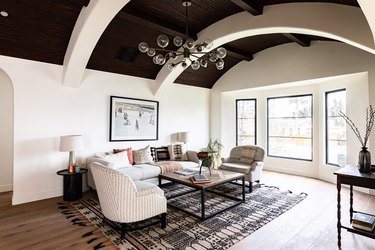 Large, patterned rugs can overwhelm a spatially challenged room. Select an appropriately scaled pattern that creates visual interest without looking busy, as was done in this inviting living room. The rug's neutral color scheme coordinates with the rest of the home decor for a cohesive look throughout the space.
4. Use a color that matches your floor.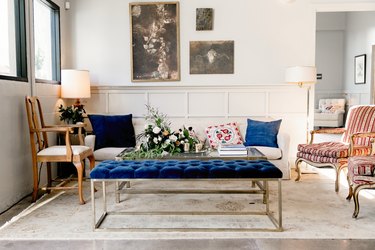 The eye is forced to adjust when there are breaks in material and color, which can make a small room feel even smaller. Create continuity to give the feeling of expansiveness while still adding texture and dimension by selecting a flat-weave rug that closely matches the color of your floor. Light-colored rugs make a room look brighter and more spacious.
5. Select a large area rug.
People often think that small spaces need small rugs, when in fact the opposite is true. If possible, extend the rug beyond the furniture, drawing the eye outward, or at a minimum, ensure the area rug easily reaches the front legs of your furniture, as seen in this pared-down space by Studio Life/Style.
5 Ways to Make a Larger Room Look Smaller With a Rug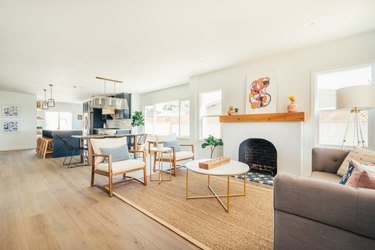 Sure, large rooms are a luxury, but they can feel cold and uninviting if not properly curated. If you find yourself with an expansive room that is lacking the warmth and cozy feeling you crave, don't fret. Even in this instance, rugs are your friend and can do wonders at transforming even the largest spaces into welcoming, den-like hideaways. Here are five ways to accomplish that goal with a rug.
There's a bit more flexibility when it comes to selecting a rug pattern and color for a large-scale room. With ample negative space, oversize spaces can support bright hues and bold patterns without feeling cramped. In fact, high-contrast designs, like this statement-making rug with a geometric motif from Lulu and Georgia, add visual weight and help ground airy spaces.
2. Layer rugs of varying sizes and patterns.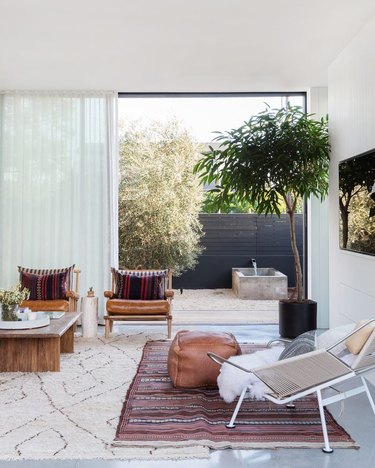 In very large spaces, it can be challenging to find a rug that's big enough to cover the floor. A workaround for this is to layer two or even three rugs. Amber Lewis expertly executed this idea in a bohemian-meets-midcentury-modern living room. It's a clever way to add pattern, texture, and warmth to a cavernous space. Plus, having more than one pattern to focus on helps bring a large space to life.
3. Carve out distinct zones.
A great way to break down your large, open space into separate, more intimate areas is with area rugs. While these soft landing pads don't need to be identical, they should relate through color and/or pattern, as seen in this open living room design by Jessica Helgerson. She opted for high-pile, textured rugs, which also enhance the cozy vibe.
4. Create a focal point with bright colors.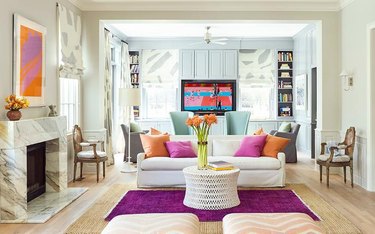 Bright colors have a magnetic quality that attracts the eye. In large spaces, deftly placed punchy hues can draw the eye inward toward the center of the room, giving the feeling of intimacy. For example, by using jewel-tone pillows and a fuchsia rug, Angie Hranowsky turns the middle of this living room into the focal point.
5. Be mindful of pile height.
Pile height refers to the thickness and length of a carpet's yarn. Opt for rugs with a higher pile (like a shag rug) to give loftier spaces a more intimate and welcoming feeling. Not only are they softer underfoot but they also amp up texture and depth, which larger rooms like this setup from Lulu and Georgia can support.