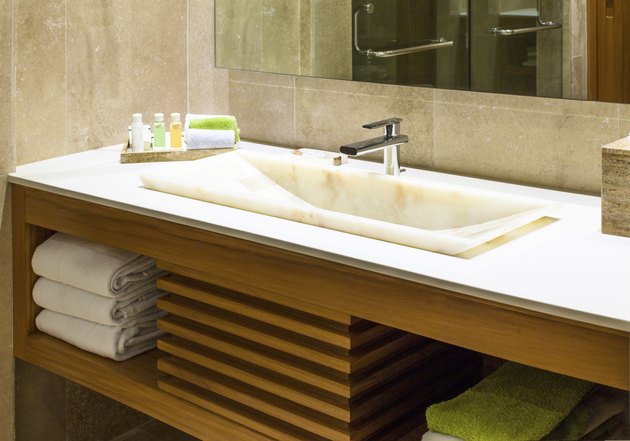 For decades, standard bathroom vanity height was 30 to 32 inches, but this range may be less common today. Vanity comfort heights often replace traditional standard heights to accommodate a growing population since, in general, people are physically taller than their ancestors, but also to oblige modern sinks and cabinet styles. Don't be too quick to install a vanity at any height without first weighing a few pros and cons.
The Height of Comfort
Comfort-height bathroom vanities typically stand at kitchen counter height, about 36 inches high, but this isn't ideal for everyone. If it's easy to chop veggies or mix batter at a standard kitchen counter, it's also likely a good height for your vanity. If you're bending forward or lifting your elbows like a bird readying for flight to accommodate the kitchen counter on the other hand, a slightly higher or lower vanity may be in order. Consider that a tall vanity -- 42 or even 48 or so inches high -- can result in less bending while brushing your teeth or washing your face. Factor in every occupant's height and abilities, remembering that someone in a wheelchair has specific needs, and that children don't stay small.
Lowering to Vessel Sink Standards
A raised basin or vessel sink calls for a lower vanity to bring its top edge or rim to a comfortable height. How far a particular sink's rim sits from the finished floor is what counts, so calculate the basin's installed height plus the vanity's height, if you aren't using an all-in-one unit. Conversely, an under-mount sink can mean even more bending since it sits from a couple to several inches lower than drop-in styles.
High Floating
Floating or wall-mounted vanities offer airiness, but if they're positioned too low they merely provide somewhere for dust bunnies to burrow. Choose a design that leaves enough space underneath without being too high or low for your comfort. For someone in a wheelchair, install a floating vanity at an appropriate height for knee space and easy access.
Calculating Countertops
The countertop typically adds 1/2 to 2 inches of height to the vanity, depending on the material. Countertop thickness is also aesthetically important: A thick stone slab, for example, appears more substantial than a thin one, but can perceptively squash a sleek vanity or slender-legged cabinet. If you have the skills, revive an old vanity by painting the countertop, or by changing its height -- add or remove risers or revamp the apron. As you mull over an appropriate vanity height, also consider how everything else relates to it, including mirror size and another not-so-standard standard: Traditional toilet height has grown from 17 to 19 inches, floor to seat.
---

Lorna Hordos
Lorna Hordos is a home-flipping business owner and freelance writer. She writes friendly, conversational business, home and lifestyle articles for Bizfluent, azcentral, Daltile, Marazzi, Lowes, Philips Lighting, WordPress.com and numerous other publications.