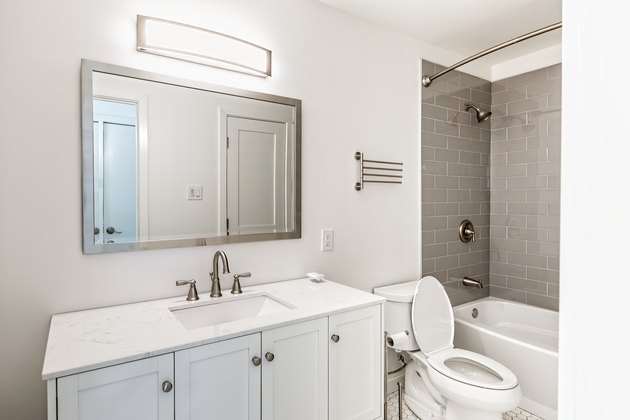 The standard height of bathroom cabinets is no longer standard. Older properties were built to accommodate peoples' heights in days past when the top of the counter measured 30 to 32 inches from the floor. But as people got taller, so did the cabinet height. Today, bathroom cabinets can still be ordered in the traditional 32-inch height for a child's bathroom or a small adult, but most adults prefer 34 to 36 inches in height, according to the Philadelphia Inquirer.
Tip
In recent years, bathroom vanity designs look more like pieces of furniture than simple cabinetry, and the height of the cabinetry has been raised to at least 34 inches. If you plan to sell your property in the near future, consider trends in height and design as you plan your bathroom redo.
In the past 100 years, men and women have averaged 2 inches in height over their predecessors, according to Time. As a comparison, a kitchen counter is generally 34 to 36 inches in height. When considering a redo of your bathroom, stand at the sink, lean over while brushing your teeth and determine if the height suits your body. Your lower back is the best indicator.
You may also want to visit your local home improvement store where you can test drive the displays of bathroom counter designs. Stand over the vanity heights that are attractive to you. The 4- to 6-inch difference between the older vanities and the newer versions offers a telling story.
If you're replacing an older vanity with one that's higher, check the sink's water and drain lines to see if they'll accommodate a higher vanity. If not, you'll need to call in a plumber to repipe the sink to its new height. Be sure to measure your new sink for accompanying faucets and drain holes, and if you want to go for a modernistic design and install a vessel sink, don't forget to add its height to your calculations of the countertop height.
If you're over 6 feet tall and your partner is 5 feet, 4 inches, a tall counter may be a problem. There's a solution: Buy two single cabinets, one in each person's comfort range, and place them side by side or create a storage space in between if you have the room. You'll need plumbing for two sinks and wall space for two mirrors, but it'll make an interesting decorating statement and resolve your problem.
Instead of reworking your original bathroom vanity by putting it on a block to increase its height, there's a solution that will add drama and a modern touch to your bathroom. A floating bathroom vanity, one that doesn't sit on the floor, is ideal. You'll need a plumber to rework the plumbing to accommodate the design, but you'll be able to place it on the wall at exactly the height you need. It's totally custom and still gives you storage underneath, and the effect brings your bathroom into the modern age.
If you plan to stay in your home for the rest of your life, you may wish to make your bathroom compliant with the Americans With Disabilities Act guidelines. While the look may not be modern and sleek, it does provide for the equipment that people need as they age. A floating counter that can be adjusted when the time comes is an inexpensive way to recondition the bathroom without making it look institutional.
---
As the editor of "At Home In Palm Beach County" Jann wrote, edited, hired freelancers and saw the magazine through to publication. She's a pro at decor and design and has written thousands of titles on those subjects.
View Work